Some new music out today;
Melissa Etheridge,
MEmphis Rock and Soul
Green Day,
Revolution Radio
Oasis,
Be Here Now: Chasing The Sun Edition
Phish, Big Boat
The Rolling Stones announced their new album "Blue & Lonesome" yesterday.  It will be released December 2.  Eric Clapton joins them on a couple of songs.  The Stones hit the stage at Desert Trip tonight.  And congrats again to our Desert Trip winner Nathan Tiffin!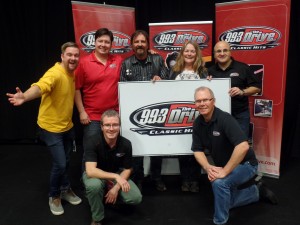 According to Christine McVie, Fleetwood Mac should have their new album done by Christmas….'done?'  Christine…does that mean out?  Ok she is clear that she's excited about it and loves the 6 or 7 songs they've done so far.
Here are a couple options;  for New Years…Styx will play Jack Daniel's Music City Midnight: New Year's Eve in Nashville at Bicentennial Capitol Mall State Park and Billy Joel will perform in Florida at the BB&T Center in Sunrise.
There's even more hope for the Gallagher brothers, Noel & Liam, getting Oasis back together.  The guy who directed their documentary 'Supersonic' got the vibe that it was therapeutic for the boys do to the film.   "Supersonic" will be available October 31st.
Classic Rock magazine has named Jimmy Page's solo in "Stairway to Heaven" the best guitar solo of all time. Ok when something like this comes out they never say we did it scientifically or we just cranked it after a 3 martini lunch and went…"Yea…right…that's great eh!"
Anyhow here's their list;
Jimmy Page/Led Zeppelin – "Stairway To Heaven"
David Gilmour/ Pink Floyd – "Comfortably Numb"
Don Felder and Joe Walsh/Eagles – "Hotel California"
Allen Collins/Lynyrd Skynyrd – "Freebird"
Jimi Hendrix/The Jimi Hendrix Experience – "All Along The Watchtower"
Eddie Van Halen/Van Halen – "Eruption"
Brian May/Queen – "Killer Queen"
Slash/GN'R – "Sweet Child Of Mine"
Prince/Prince And The Revolution – "Purple Rain"
Tony Iommi/Black Sabbath – "Paranoid"