Tom Petty is MusicCares person of the year.  He'll get a big party on Grammy Weekend in LA February 10th.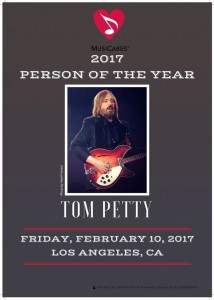 It's the 40th anniversary of the Last Waltz album by The Band….soooo they're hitting the dance floor again with a re-release of the album and concert film.  Different versions on different formats will be released, including a six-LP Deluxe Edition on vinyl, November 11th.
Sting's new album 57th & 9th is coming out November 11th.  He's released a new single and video from that album.  The song is called 'I Can't Stop Thinking About You.'  Check out the video…HERE.
"David Bowie Legacy" is a whack of songs that start in 1969 with 'Space Oddity' to 'Lazarus' through the final singles from this year's "Lazarus" It comes out on CD and Vinyl November 11th.
Elton John is playing a fundraiser for Hillary Clinton in LA.  It's not cheap….$33,400 a head…but hey you get dinner too!  And if you don't want to sit with the riff-raff you can drop $100,000 for something they call 'co-chair' reception and premier seating…you know to get you away from the smell of the $33,000 crowd.
 Check out the story from Variety..(click the pic)