73 year old Roger Waters has put the last brick in the wall between him and his 43 year old girlfriend, Palestinian journalist and author Rula Jebreal.   They were both quite vocal in their support of Palestinian rights but apparently the outspoken couple just couldn't agree on everything and their families didn't get along.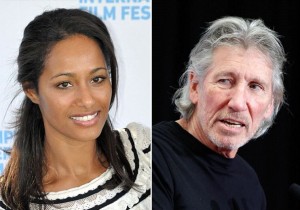 Paul McCartney is auctioning off a pair of tickets to his show in Sacramento October 5th.  You get a meet and great with Sir Paul.  A pro photographer will take a pic of you and the great lefty, then you get to hang around for the sound check before the show. The money goes to the charity City of Hope, a research and treatment center for cancer, diabetes and other life-threatening diseases. So far the bid is $5,700
British authorities have arrested a 19-year-old for allegedly plotting a terrorist attack around Elton John's September 11th concert in Hyde Park in London. He was allegedly planning to detonate a nail bomb at the show.
James Taylor is re-releasing his decade old "James Taylor at Christmas," album September 23rd and he's doing it on vinyl. It features a bunch of classics and a few duets plus…oh who am I kidding you've had it for ten years and you're not going to buy it again then go out looking for a turntable.
Michael Stipe has posted a video showing his support of Chelsea Manning.  Manning is a former U.S. soldier who is in jail for leaking classified information to WikiLeaks.  Manning is on a hunger strike right now but before I spoil all the details let's see what Michael has to say.  There's more below
Yesterday Reuters posted this story about Chelsea Manning.