Desert Trip, is releasing more tickets!  They've just announced a few more reserved seats and general admission passes will go on sale Saturday at 1pm PT, on the festival's official website.  If you still don't get tickets listen to win'm on 99.3 The Drive with our Desert Trip contest.
Yesterday Wendy & I were talking about Meat Loaf's on stage collapse in Edmonton in June.  He was on the "Today" show says he's fine but amazed at how fast the news of his collapse spread…Someone tell him about the internet but make sure he's sitting down.
Billy Joel is taking some time off his residency at New York's Madison Square Garden to undergo sinus surgery…(ok stop making that mocking sound with your voice, this is serious dammit!)  He's rescheduling his September 30th show to November 21st.  The September tickets will be honoured for the the November show.  Now we hope your travel agent is a Billy Joel fan.
After he died in 1994 there have been some who think Kurt Cobain is still alive.   When these astute conspiracy theorists say a video of singer Ramiro Saavedra performing "Come As You Are" on Peru's talent show "Yo Soy" they thought they found Kurt.  Because as you know if you fake your death and want to lay low, get yourself on TV.  Click on the pic for the story from The Daily Mail…It'll be fun.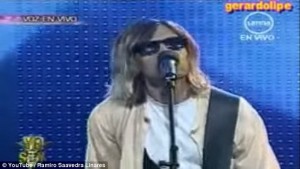 Check out Green Day's video for the song "Bang Bang," they're breaking bad!  Oh look we're bad boys robbing a bank, don't mess with us!  Oh and make sure you have lots of Perrier, sushi and Breton crackers in our dressing room when we get back.  Check in out, click on Rolling Stone.  The song Big Band is of their new album "Revolution Radio," out October 7th.
Eddie Vedder has been added to the New York Concert Across America to End Gun Violence.  He'll join Jackson Browne, Marc Cohn and many more at the Beacon Theater on September 25th, the Congressionally-designated date to remember murder victims. Tickets for the show are on sale now.
The Eagles' Timothy B. Schmit just debuted a lyric video for his new song, "Red Dirt Road,"  the first single off his upcoming solo album, "Leap of Faith," which drops Friday.  See it here.