Apparently Dave Grohl's mom is cool as he is.  Virginia Hanlon Grove is writing a book about raising a rocker and interviewed other Moms of rock stars for their input.  The book is called "The Mothers Who Rocked And Raised Rock Stars."   She talked to the moms of Dr. Dre, Michael Stipe, Amy Winehouse, Mike D, Adam Levine, the Haim sisters and more.  Dave Grohl wrote the forward.  "The Mothers Who Rocked And Raised Rock Stars" is due out April 25th, 2017.
Click the pic for the full story from AUX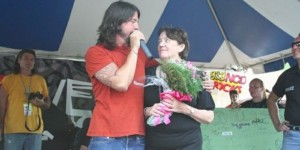 The original members of Santana got together recently to record and film "Live at the House of Blues, Las Vegas" which will be released October 21st.  It is available now for pre-order.  Ronald Isley (founding member of the Isley Brothers) also helped out.
Really!? This hasn't happened yet!? Daryl Hall and John Oates finally got a star on the Hollywood Boulevard Walk of Fame.  Oates said it was almost 45 years to the day the duo arrived in Los Angeles trying to get a recording contract.  The most prolific duo in pop history are currently on tour.  Click here for the dates.  There are no Canadian stops but they are in Washington tomorrow night.
Tickets go on sale Monday morning at 10 at LiveNation.com , for Stevie Nicks and the Pretenders "24 KARAT GOLD TOUR " with a stop at Rogers Arena in Vancouver Friday, December 9th.
The Spend The Night With Alice Cooper Tour hits the Queen Elizabeth Theatre in Vancouver Wednesday, October 19th.
Chicago ,and Earth Wind and Fire's Heart and Soul tour at Rogers arena in Vancouver , Monday ,November 7 th .
One of the claims to fame of original Cure drummer Lol Tolhurst is that he once peed on Billy Idol. Tolhurst says it was an early gig as the opening act for Idol and he blames it on a combination of free beer, a dark restroom and his own "electric bladder." Tolhurst says Idol was in the men's room with a young lady and Tolhurst was drunk and couldn't see. Tolhurst says The Cure were "unceremoniously dumped from the tour" the next day, but he doubts it's because of that. He says he ran into Idol several years later and Idol seemed unperturbed. Tolhurst has an autobiography called "Cured: The Tale of Two Imaginary Boys" coming out October 11th.
Stevie Nicks isn't confident Hillary Clinton will win the presidency in November and she wants Hillary to win big…Why?…So she can perform the song "Landslide," at the Inauguration.   She's got a big plan too.  She wants to get the Dixie Chicks, Billy Corgan and everybody who's ever sung a version of 'Landslide,'" to join her.  Careful Stevie or you'll jinx it.