Stevie Nicks  will kick off  her "The 24 Karat Gold Tour" on October 25th in Phoenix, Arizona,with special guests, The Pretenders (Chrissie Hynde 's Birthday today.) The tour will hit Toronto &  Vancouver.  Check out the dates here.
Bruce Springsteen is in October's "Vanity Fair" magazine (and on the cover.)   He talks about the upcoming biography, "Born To Run," (out September 27th.)   The article talks about Springsteen's battle with depression.  The Boss tells how he got help.  He also says his next album is ready but he doesn't know when it will be released.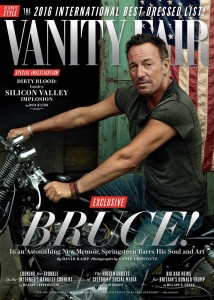 Yoko Ono's is reissuing and releasing her entire music catalog in November.  Even worse it's on a Canadian Label.  She'll release 11 albums over the next couple years…(Just so the shock doesn't kill anyone.)
Gregg Allman is getting back at it after his mystery medical issue.  The docs say he can return to performing and he will at the Laid Back Red Rocks Festival on September 25th, and Atlanta's Laid Back Fest on October 29th.
Meat Loaf's 40 year old album "Bat Out Of Hell," is being made into a rock opera.   And the guy who wrote all the songs, Jim Steinman, is the guy behind it.  England's Manchester Opera House gets the previews February 17th  It'll come to Canada after that.
Ok we know
Green Day
's 12th studio album "Revolution Radio," due out on October 7th.  But did you know they're coming to a small venue near you?  They're clubbing it on their next tour of the States and Canada before hitting the big arenas in Europe.  Check out the dates
here
.