For the second year in a row, a slew of artist are getting together to salute the late Grateful Dead frontman Jerry Garcia with two days of concerts. Last year's "Dear Jerry" shows took place at the Merriweather Post Pavilion in Maryland, and this year the salutes are set for Washington, DC. and Virginia.  Night one of "Dear Jerry: Let's Play 2" is set for October 14th at Washington D.C.'s DAR Constitution Hall. The evening, dubbed "Jerry Uncovered: Exploring Jerry Garcia through the JGB Songbook," will feature Warren Haynes, Alison Krauss, John Medeski, Don Was, Jamey Johnson, Raymond Weber and more.  The following night the tribute will head to Fairfax, Virginia's EagleBank Arena for "This Is 30!," a show that will recreate a Jerry Garcia Band concert from October 1986 and feature Haynes once again, along with the Avett Brothers and other guests.  Tickets for both shows go on sale Thursday.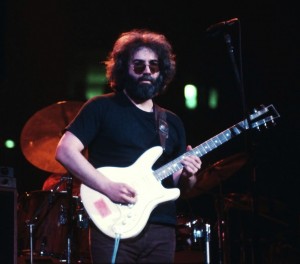 Phil Collins was the headliner at the opening of the 2016 U.S. Open Tennis championships in Flushing, New York, playing for the crowd gathered at Arthur Ashe stadium.  Phil kicked things off with "In The Air Tonight," as the stadium's new retractable roof opened. He was then joined by "Hamilton's" Leslie Odom, Jr., who took over Philip Bailey's part on of "Easy Lover."  The concert was Phil's first performance since a June 3rd show in Switzerland.
"Exhibitionism" is the Rolling Stones' fan dream, an exhibit featuring a career-spanning collection of memorabilia. On display will be stage clothing, classic album artwork, photography, stage designs, personal diaries, behind-the-scenes footage, a recreation of the band's first apartment, and more.  "Exhibitionism" is set to come to New York City's Industria Superstudio on November 12th and run through March 12th. Tickets go on sale on September 14th at 10am, but Amex Card Members can purchase tickets beginning today at 10am.
_ Ann Wilson's husband, Dean Wetter, has been busted. The arrest was in connection with an incident involving the 16-year-old twin sons of her sister, Nancy Wilson. Curtis and William Crowe _ the sons of film director Cameron Crowe _ were reportedly watching their mother and aunt perform Friday and wanted to look inside Ann Wilson's tour bus. The documents say Wetter started yelling after they left the door open. He's accused of grabbing the throats of the teens. Wetter is scheduled to appear in court again tomorrow.
John Lennon's killer has been denied parole for the ninth time. The Board of Parole for New York state announced Mark David Chapman will stay behind bars. He is serving a sentence of 20 years to life in Wende Correctional Facility in western New York. The board noted that Chapman describes Lennon's 1980 murder as "selfish and evil." The board wrote his release would be "incompatible with the welfare of society and would so deprecate that seriousness of the crime as to undermine respect for the law." Chapman was last denied parole in 2014. He can try again in 2018.
The Misfits have announced that Dave Lombardo will sit behind the drum kit for their two upcoming reunion shows at Riotfest.  "The Misfits created the horror punk attitude and had a massive influence on modern rock, punk and metal," says Lombardo. "It was an easy decision for me to join them for these monumental shows. I was honored to be asked, and am very excited to be playing with the band."   Frontman Glen Danzig, making his first appearance with the band since 1983, says Lombardo is "one of the best drummers around" while bassist Jerry Only says the former Slayer rocker is  a "master at what he does." The Misfits' first gig is in Denver on this weekend followed by a Chicago gig the weekend of the 16th in Chicago. Tickets for both weekends are on sale now.