The lineup for the 30th Annual Bridge School benefit, and there's a little something for everyone.  In addition to a set by Neil Young and his band, Promise of the Real, this year's headliners include Metallica, Roger Waters and Dave Matthews, along with Cage the Elephant, case/lang/veirs (Neko Case, k.d. lang and Laura Veirs), Norah Jones, E Street Band's Nils Lofgren, My Morning Jacket and Willie Nelson.  As always, the show will take place at the Shoreline Amphitheater in Mountain View California, with this year's concerts set for October 22nd and 23rd. Tickets go on sale Monday morning at 10. Co-founded in 1986 by Young's ex-wife Pegi, the Bridge School helps children with severe speech and physical impairments.  Click the pic to go to the site.
And… Neil Young will be the first guest on Dan Rather's new AXS T-V show, "The Big Interview." Young will appear on the September 13th episode. Meat Loaf, Martina McBride, Olivia Newton-John, and Canadian crooner Michael Buble' also will be guests this fall.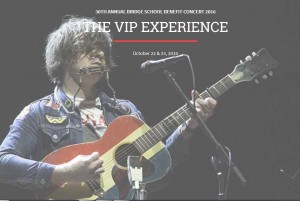 It looks like Joni Mitchell is on the mend! In case you missed it, the iconic musician was photographed at a Chick Corea gig in Los Angeles.  This marks the first time the 72-year-old has been spotted out and about since being hospitalized for a brain aneurysm some 17 months ago. You can check out the photos from Mitchell's night on the town on her website.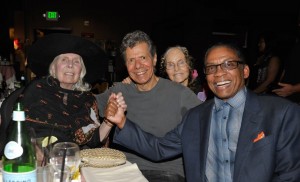 Styx and former Eagles guitarist Don Felder are the latest musicians to land a residency in Las Vegas. The two acts have announced the "Renegades in the Fast Lane" show, taking place at the Venetian in Las Vegas.  So far the shows are set for January 6th, 7th 11th, 13th and 14th, with tickets going on sale Friday.  This isn't the first time the two acts have worked together. The crew previously toured together with Foreigner on the "Soundtrack of Summer" tour.
Alice Cooper is tired of our current election season madness, so he's throwing his own hat in the ring…well, sort of. The rocker has launched an unofficial campaign that comes with his own platform, merchandise, and of course, music.
If elected, Cooper is planning on taking on 10 hot button issues:
Getting

Brian Johnson

back in AC/DC
A snake in every pot
No more pencils, no more books
Adding Lemmy to Mt Rushmore
Rename Big Ben "Big Lemmy"
Groucho Marx on the

$50

bill

Peter Sellers

on the £20 note (so does he think he gets to be Prime Minister of England too?)
Cupholders required for every airplane seat
Ban on talking during movies in movie theatres
Ban on taking selfies, except on a designated National Selfie Day
He's also releasing a new version of his 1972 song, "Elected," and has t-shirts, buttons, stickers, and other merchandise up for sale. Check out more details on Cooper, a "troubled man for troubled times," CLICK HERE.
Berlin has created their own memorial to the late David Bowie. The city's mayor, Michael Mueller, unveiled a memorial plaque outside of the building where the Thin White Duke lived from 1976 until 1978. Since Bowie's death in January, the building has served as a memorial to the icon.  Aside from being the rocker's home for two years, the city served as inspiration and the recording location of "Low," "Heroes," and "Lodge."  The new plaque makes reference to Bowie's music from the time, including the lyrics "We can be heroes, just for one day." Bowie had said that, "Heroes," was inspired by watching his producer Tony Visconti kiss his girlfriend against the Berlin Wall.