The Tragically Hip played the final concert of their "Man Machine Poem" tour in Kingston Saturday.  It was very emotional with millions watching and tweeting about what they were watching and what the Hip means to them and Canada.  Back in May the band announced Gord Downie was diagnosed with terminal brain cancer.  Downie made a plea to Justin Trudeau in the audience to deal with the 'problem we've all been trained to ignore.'  It was a power packed show with the band coming back for 3 encores.
And a 'Way to go' to CBC for airing the entire broadcast uncensored and commercial free.  Click the pic for a link to their story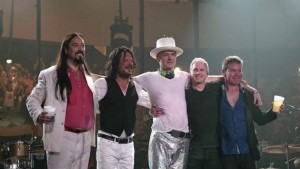 Pearl Jam performed the first of a two-night stand at Chicago's Wrigley Field on Saturday (night two is tonight), with a show that featured several poignant moments.  At the start of the concert, frontman Eddie Vedder dedicated the song "Light Years" to Gord Downie of The Tragically Hip, who was diagnosed with brain cancer earlier this year and was playing what is expected to be his last show with the band that same night in in Kingston, Canada.
"There's something going on north of the border tonight and it involves somebody who we consider a family member just 'cause he's part of the group of touring musicians that we've met over the years," Vedder told the crowd. "We were all informed of some sad news that he had a really tough form of brain cancer. He was very courageous and decided to take [the Tragically Hip] out on one last tour and tonight's the last night of that run."
Eddie added, "So they're up there, going through the emotions up there. I just want to send them our energy from our gathering up to their gathering up there, and wish the best to Mr. Gord Downie. We love you." Check out video to the right.
Saturday night's show also featured an on-stage proposal. Eddie invited Army Sergeant Kyle Johnson on stage, after hearing that the soldier's girlfriend, Amy, surprised him with tickets. The couple sat on stage for the PJ tune "Just Breathe," during which Kyle popped the question. Check out video to the right.
ONE MORE THING! On Friday, rumors started to circulate that Pearl Jam was doing a free show on the roof of the Murphy's Bleachers sports bar in Chicago, and as you can imagine, lots of fans turned up to try and catch it. Turns out, the band was indeed on the roof of Murphy's, but it was for a photo shoot and not a performance.
Either Richie Sambora and Jon Bon Jovi are still friendly or they're really good at faking it. The former bandmates are rumored to be feuding, but they exchanged well wishes on Twitter after Bon Jovi released their new single.   Sambora, who left the band back in 2013, posted a video of himself and guitarist/girlfriend Orianthi congratulating his former band on their single "This House Is Not For Sale." The official Bon Jovi twitter account responded "thanks Richie and Orianthi. Look forward to hearing your record too…all the best, JBJ"
This year's London's BluesFest includes a concert celebrating Bill Wyman's 80th birthday on October 28th. Now we know it's going to be just a bit more star studded because Led Zeppelin's Robert Plant has been added to the lineup.  "This Bill Wyman concert is shaping up to be one of the gigs of the year," London's BluesFest director Leo Green explains "The addition of Robert Plant to an already monumental lineup is a clear indicator of the vast influence this incredible musician has had on the music world and we're delighted that he's chosen to celebrate this milestone birthday with us – who knows who else might turn up on the night to jump up onstage."   Aside from Plant, Dire Straits' Mark Knopfler, Bob Geldof, Simply Red's Mick Hucknall and singer Imelda May are also scheduled to celebrate Wyman. If you can make it Across the Pond, tickets are available now.
Whatever you did this weekend, Flea probably has you beat. The Red Hot Chili Peppers bassist got to hang out with the famed Koko the Gorilla at The Gorilla Foundation in Woodside, California. As it turns out, Koko is a natural at the bass.  In a clip of their jam sesh, Flea is seeing laying on the floor as the 45-year-old gorilla inspects and plucks a bass guitar. "This is just the greatest thing that could ever happen," Flea says in the video. "This is the day that I will never forget in my life."  The Chili Pepper documented the experience on his Instagram and posted a link to a fundraising site selling tees and sweatshirts to help raise money for The Gorilla Foundation. You have less than 24 hours to get your shirt.
An official close to the investigation says several pills taken from Prince's estate in Paisley Park after his death were counterfeit drugs that actually contained the powerful synthetic opioid fentanyl.
The official says many of the pills were found in falsely labelled aspirin and vitamin bottles tucked in a suitcase, in duffel bags and in a dressing room. Autopsy results showed that Prince's death on April 21st was from an accidental fentanyl overdose.
Original 3 Doors Down guitarist Matt Roberts has been found dead in West Bend, Wisconsin. West Bend police say a man was reported unconscious around 7 a-m Saturday in a hotel hallway. Police say there were no signs of trauma and a cause of death was not immediately known. Roberts was 38. Singer Brad Arnold, bassist Todd Harrell and Roberts founded the band in 1994 in Escatawpa, Mississippi. Their biggest hit was "Kryptonite" in 2000, followed by hits like "When I'm Gone" and "Here Without You." Roberts left 3 Doors Down in 2012 for health reasons.
Mike Nesmith will rejoin the surviving Monkees for one more show. Then he says he will "step off, sit down and shut up." Nesmith writes on The Monkees' Facebook page he will perform with Micky Dolenz and Peter Tork in Los Angeles on Sept. 16th, what he calls almost a perfect match for the 50-year anniversary of the T-V show. Dolenz and Tork will take the tour overseas, while Nesmith plans to do solo concerts and a tour to support his book, "Infinite Tuesday."
Berlin's mayor has inaugurated a memorial to a hero — a plaque commemorating David Bowie's time in the once-divided city in the late 1970s. Mayor Michael Mueller recalled Bowie's "special relationship" with Berlin as he unveiled the plaque at the building where Bowie lived from 1976 to 1978. The singer died of cancer in January at the age of 69.