A Minnesota judge says…ah no Prince's home and recording studio will not be on the list of properties that can be sold off.  He did give permission to the administrator to sell a half dozen other Prince properties including a 22 million dollar commercial building.
Don't mess with Christie Brinkley! We told you she and John Mellencamp split because of distance and scheduling, but Richard Johnson at the "New York Post" posted an article disregarding all that and saying it was because of the rocker's political views and "redneck ways." The former supermodel wasn't having any of that.  "While much has been written over the years about me that I simply allow to roll off my back…I do stand up for my friends when things seem unfair and this is the case here," she captioned a photo of the article. "On the heels of a mutual statement…which clearly explained that distance and work were all that stood in the way of our relationship…comes this convoluted article."  And thanks to Christie's rebuttle, we  now know both Brinkley and Mellencamp are voting for Hillary Clinton. "As to the problem JOHN and I faced it's just Mileage," she adds. "Pure and simple. Not that exciting or salacious, sorry."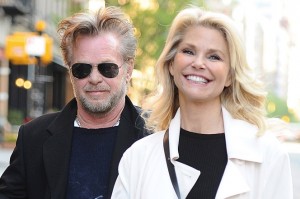 It turns out The Beatles weren't exactly big fans of Yoko Ono at the beginning. In case you missed it, Paul McCartney admitted that he and the rest of the Fab Four initially felt "threatened" by John Lennon's missus. "We were kind of threatened [then]. She was sitting on the amps while we were recording," McCartney remembers. "Most bands couldn't handle that. We handled it, but not amazingly well, because we were so tight. We weren't sexist, but girls didn't come to the studio ― they tended to leave us to it." He adds that John and Yoko's relationship started to wedge itself "in the middle" of the The Beatles. Now, however, Macca and Yoko are buddies. "Now it's like we're mates. I like Yoko," McCartney adds. "She's so Yoko."
R.E.M.'s Mike Mills is going classical. Mills will release "Concerto for Violin, Rock Band and String Orchestra," on October 14th, which he recorded with violinist, and childhood friend, Robert McDuffie and students from Mercer University's McDuffie Center for Strings Ensemble.  "It is a pleasure and an honor to have composed and to perform this amazing project alongside my old friend Bobby, whose imagination and encouragement got the whole thing off the ground in the first place," Mills said in a statement.  The pair first debuted the piece with the Toronto Symphony Orchestra back in June, and also performed it in Rome, and last night at the Aspen Music Festival. They'll also hit the road together starting October 20th in Miami. Click here for a complete list of dates.
Metallica will live-stream their Minneapolis concert on August 20th. It will be the first rock concert at U-S Bank Stadium, home of the Vikings. The concert will stream on the Pandora website within the U-S and on LiveMetallica-dot-com outside the U-S.
Are you sick and tired of waiting in security lines to get into see your favorite band? Well, that could soon be a thing of the past…if you're willing to pay for it.  Live Nation has teamed with IdentoGo, the company associated with the TSA Pre-check at airports, to provide a similar service for concert fans. The service, which will cost $85 for five years, will provide registered, pre-approved fans with a dedicated line at concerts and festivals. In order to qualify, besides the fee, concertgoers only need a valid government issued ID, and once enrolled they'll get an ID number that will help them walk right into a show.  Live Nation has already tested the service at the Watershed Festival in Quincy, Washington last month, with those registrations good until the end of next year. They can be used at such upcoming festivals a Route 91 Harvest Country Music Festival in Las Vegas and Meadows Music & Arts Festival in Queens, NY, as well as certain venues across the country.
Green Day is back and ready to rock. Not only has the band announced their upcoming album, "Revolution Radio," will hit stores on October 7th, but we've also got the single "Bang Bang" to enjoy. "It's about the culture of mass shooting that happens in America mixed with narcissistic social media," frontman Billie Joe Armstrong says about the track. "There's this sort of rage happening, but it's also now being filmed and we all have ourselves under surveillance." He adds, "To me, that is so twisted. To get into the brain of someone like that was freaky. It freaked me out. After I wrote it, all I wanted to do was get that out of my brain because it just freaked me out." If you preorder "Revolution Radio" HERE, you'll get an instant download of "Bang Bang." Fans can also buy a lyric book, which comes with the instant "Bang Bang" download and a 32-page hardcover book with a CD containing bonus photos, art, and lyrics.
Click the pic to hear it.