Good news from Tony Iommi! His cancer is in remission. The Black Sabbath rocker made the announcement at a plaque unveiling at Spire Parkway Hospital's Specialist Care Centre in Solihull, England, where he'd been receiving treatment.  "I am in remission, and hopefully this situation will continue," he told The Birmingham Mail. "I came back to hospital straight after [Black Sabbath] finished a round of European tour dates, and the good news is that everything is all right up to this point."  While he's aware that this diagnosis doesn't mean his lymphoma, which he was diagnosed with back in 2012, is gone for good, he has a plan to keep himself healthy. "I have a blood test every six weeks at my GP's, and I come in here at regular intervals for check-ups," he explained. "That's something that I'll have to live with for the rest of my life, looking for any warning signs that it might be rearing its ugly head again."
Click the Pic for the story in Rolling Stone.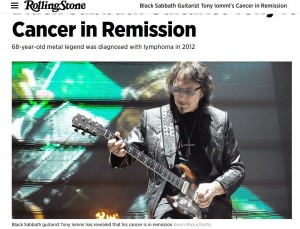 And…. Ozzy Osbourne's management calls a lawsuit over royalties filed by his former bassist and songwriting partner "tantamount to harassment." Bob Daisley's lawsuit claims Osbourne and his company have been deducting undisclosed fees and shortchanging him on royalties from Osbourne's solo albums. Osbourne and his company issued a statement saying Daisley has employed several auditing firms who found no discrepancies, and he's sued Osbourne in the U-K and in the U-S and lost. They say after 36-years of cashing the royalty checks, Daisley should have lost "his unhealthy personal obsession and resentment towards Mr Osbourne's success."
We have to wait until October 7th to get Oasis' reissue of "Be Here Now," but the band has released a live track to hold us over.  The new and improved "Be Here Now" is three CDs, which includes the original album alongside B-sides, "the Mustique demos" and live cuts from the era. One of those live tracks is "My Big Mouth," which was recorded back in 1996 in Knebworth, England. Two months after that performance, Oasis would start work on "Be Here Now."    If you preorder "Be Here Now – Chasing the Sun" before it hits stores in October, you'll receive an instant download of the Knebworth "My Big Mouth" as well as Noel Gallagher's 2016 "rethink" of the album's opener "D'You Know What I Mean?"  Check out the live version of "My Big Mouth," but just a warning, it drops the F-bomb.
Paul McCartney must like to keep busy. The icon, whose currently on his "One on One" tour, is already thinking about his next album, the follow up to 2013's "New." Macca says he's "looking at some lyric ideas."  "I can write all over the place," he tells Rolling Stone. "I've got a lot of ideas on the go."   While McCartney doesn't have a timeline for this new album, he says that whenever it does come out, it's going to help him as much as it does his fans. "Music is like a psychiatrist," he says. "You can tell your guitar things that you can't tell people. And it will answer you with things people can't tell you. But there's a value to sad songs. Something bad happens, you don't want to repress it. So you unload it on yourself, with a guitar."   Macca also doesn't expect huge numbers with this next album. "I'll put out my next album, but I won't think I'm gonna sell a lot," he explains. "I'm putting it out because I have songs that I like. And I will do my best job. The scene has changed, but it doesn't disturb me, because I had the best of it. All of my contemporaries, who are still pretty cool, don't have it, because things have moved on. And you know what? We had it. And it was great."
The Smiths have teamed up with PETA to make maybe the most disturbing video game ever. This Beautiful Creature Must Die is an 8-bit online game that has players act quickly to save chickens, cows, pigs, and turkeys from being slaughtered by tapping the animals before they fall to the bottom of the screen. Oh, and you have to avoid bombs, too.  While saving the animals from slaughter, players will get to hear "an instrumental arcade-style version" of The Smiths' "Meat is Murder" played on a loop.  "This game is the biggest social crusade of all, as we safeguard the weak and helpless from violent human aggression," Morrissey says. "You don't get that from 'Pokémon Go.'"
Phil Collins has been tapped to perform at the opening night ceremony of the U.S. Open Tennis Championship in Flushing, New York later this month.  So far there's no word on what Collins will be performing, but the Open kicks off August 29th, with the singer's performance airing on ESPN2.  This will be Phil's first performance since a June 3rd concert in Switzerland, where he performed some of his biggest hits including "In The Air Tonight," and "Against All Odds."
The Rolling Stones will release a new box set next month covering most of their sixties catalog.  "The Rolling Stones in Mono," which is set to drop September 30th, will feature all of the group's UK and U.S. releases from 1964's "The Rolling Stones" through 1969's "Let It Bleed." It will also include singles and EP tracks, with the entire box set made up of 186 songs, 56 of them being released in mono for the very first time.  The box set will be available in a variety of formats, including either a 15-CD or 16-LP collection, both of which come with a 48-page book, as well as standard digital, mastered for iTunes and True HD formats.