Each year, a panel of British critics and industry leaders award the Mercury Prize to the best British album of the year. This year, David Bowie and Radiohead are each on the shortlist for the award.  The Thin White Duke's "Blackstar" put him in the running and Radiohead's latest, "A Moon Shaped Pool" is also being considered. "This is music to make sense of our unsettling times – heartfelt, angry, thoughtful and thrilling," the nominating committee explains. "The 2016 Hyundai Mercury Prize 'Albums of the Year' are marked by their musical ambitions, unexpected instrumentation and breathtaking arrangements."  Don't hold your breath for drummer Bill Ward to make a surprise appearance as Black Sabbath ends its farewell run. Ward's website responded to recent media reports that he would play drums on the band's tour as it winds up in Britain. The statement says, "Bill is not playing with Black Sabbath in the U-K or on any other dates of the End tour." Ward has been in a dispute with the band in recent years.
Did you know Ringo Starr was team Brexit? Yup. The former Beatle voted for Great Britain to leave the European Union.   "I voted for Brexit because I thought the European Union was a great idea, but I didn't see it going anywhere lately," Starr explains. "It's in shambles, and we're all stuck with people who want to make arrangements for their own country and don't think for the other countries. Britain should be out and get back on its own feet." As for what the future holds, Starr doesn't know how it will all end. "And now Scotland wants to leave and Wales wants to leave," he adds. "Then it will be Devon. God knows where it will end."
Kansas is getting ready to release a new album, "The Prelude Implicit," on September 23rd, their first album in 16 years. The record features new lead singer, Ronnie Platt, who replaces frontman Steve Walsh who retired last year.  And now the band has just debuted the first single from their new record, "With This Heart," which is the opening track on the album.  Kansas is set to kick off a new tour in the fall, where they'll play songs from their new record, as well as their 1976 album "Leftoverture" in its entirety to celebrate its 40th anniversary.  For a complete list of dates, click the pic. And check out the song below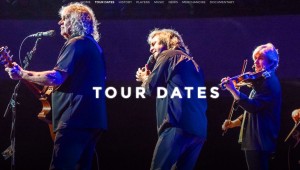 Attorneys for Prince's second ex-wife want to keep the records from their divorce sealed. Canadian Manuela Testolini appeared in a Minnesota courtroom yesterday as her lawyers argued against a request from the Star Tribune to release the records from the 2006 divorce. An attorney for the newspaper said Prince's privacy died with him and the court files are newsworthy because of the case surrounding his estate. Testolini's lawyers say the records are tied to a private settlement. The judge has not made a ruling but has taken the matter under advisement.
The Grateful Dead's Bob Weir will release a new solo album next month. "Blue Mountain," Bob's first solo release in ten years, and his first album of entirely original material in 30 years, will drop September 30th.  The album, which will come out on Columbia/Legacy Recordings, will be available in CD, two-LP vinyl and digital formats.  Weir will also tour in support of the album, with the trek kicking off October 7th in San Rafael, California and wrapping October 19th at Nashville's historic Ryman Auditorium.
David Bowie's last album is considered a favourite to win Britain's prestigious Mercury Prize. "Blackstar" is among 12 finalists for the award, which includes 26-thousand dollars for the winner. Other contenders include albums by Radiohead, The 1975, Michael Kiwanuka (kee-wah-NOO'-kah) and Bat For Lashes. The winner will be announced September 15th. The prize is given annually to the best album by British or Irish musicians.