Fans of the Tragically Hip still hoping to see the band in their upcoming tour could score tickets in a newly- announced lottery. For each date on the "Man Machine Poem" tour, there will be an opportunity to buy tickets on the day of the show. Fifty winners will be selected from each show's lottery, and those people will each be able to purchase two tickets. The cutoff for lottery entry is 11 a-m local times on the day of the show, and winners will be notified by email by one p-m that day.

In 1964 and 1965, The Beatles played three sold-out shows at the Hollywood Bowl. Now, we're all going to get a chance to experience them.  "The Beatles: Live At The Hollywood Bowl" will be released digitally and on CD September 9th, and followed by a vinyl LP on November 18th. The vinyl version comes with a 24-page booklet with an essay by noted music journalist David Fricke. The cover art features a photo taken on August 22, 1964 by The Beatles' then-U.S. tour manager, Bob Bonis, as John Lennon, Paul McCartney, George Harrison and Ringo Starr boarded a chartered flight from for their first concert in Canada.   "The Beatles: Live At The Hollywood Bowl," which you can preorder now, is a companion to "The Beatles: Eight Days A Week – The Touring Years," the Ron Howard-directed documentary about the Fab Four's career. The doc is due out on September 16th.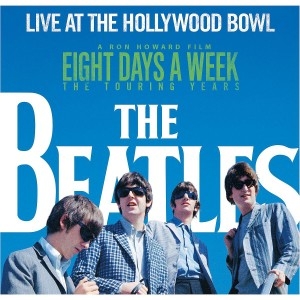 Bryan Adams and his songwriting partner Jim Vallance recently got to work with director Garry Marshall, who passed away Tuesday at the age of 81. The pair was working with the iconic director on songs for a planned "Pretty Woman" musical.  "What a sweetheart he is. You wouldn't believe it," Adams told "Billboard" earlier this week, shortly before Marshall passed. "He wasn't at the original audition that we did, but he was very much a part of this. Just brilliant to work with."  Adams and Vallance have written about 14 songs for the show, and have until December to write the rest, somewhere between six and eight more tunes.   "Obviously these things go through huge changes as you get closer to the date, so the stage is different than a band," he said, noting there's, "a lot more production and arrangement that goes into a musical than there is in making an album. It's super fun."
While we still haven't heard from Joe Perry himself, we are getting an update on what caused the rocker's onstage collapse.  According to sources close to the guitarist, Perry was suffering from a combination of dehydration and exhaustion when he had to leave the stage in the midst of a Hollywood Vampires show in Brooklyn.  He was taken to a nearby New York hospital and later released. Currently, Perry's said to be resting in California.