At the Republican National Convention, Donald Trump made a statement by walking on stage to Queen's "We Are the Champions." Now Queen guitarist Brian May has a statement for him: stop using our music.   "I've had an avalanche of complaints – some of which you can see in our 'Letters' page – about Donald Trump using our 'We Are The Champions' track as his 'theme' song on USA TV," May writes on his website (click the pic.)  "This is not an official Queen statement, but I can confirm that permission to use the track was neither sought nor given. We are taking advice on what steps we can take to ensure this use does not continue."  The guitarist adds that it's not Trump's politics that are the problem. "Regardless of our views on Mr. Trump's platform," May explains, "it has always been against our policy to allow Queen music to be used as a political campaigning tool."  (Why didn't they claim it just sounded similar and Melania wrote it? -Doug)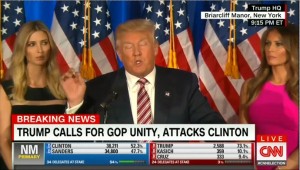 Led Zeppelin fans are going to want to make some room in their record collection. The band is set to release "Complete BBC Sessions," a 33-track album including a song not heard since it was first broadcast in 1969.  The collection includes a three-song session from March 1969, which has gone unheard since it was first broadcast the following month. A fan who recorded the performance almost five decades ago came forward with the tape, which was remastered and added to the album. Good thing that fan kept the tape because that session has the only performance of "Sunshine Woman" ever.
As if that wasn't reason enough to get your hands on "Complete BBC Sessions," the first broadcast version of "Stairway To Heaven" from April 1971 also made the cut.
"Complete BBC Sessions" is due out on September 16th as either a 2CD/4LP standard edition, 3CD/5LP deluxe edition, digital download or, of course, a box set. The box comes with a 48-page book featuring photos, BBC memorabilia and session info and a high-quality print of the album cover.
The Rolling Stones have been around for a really long time, so it's understandable some fans may worry they'll be hanging it up soon, but if Keith Richards has his way, only death will cause the end of the band.  "They're not really bands if they don't last; they're groups," said Keith, when asked by the Radio Times how they've lasted so long. "We're a band and a real band sticks until it dies. These bands, they become big, but they're generational, just for their one decade. They literally go when their testosterone goes."  And while it's been 52 years since the Stones released their debut album, Richards is confident their best music is still ahead of them.  "We work hard and no-one takes it for granted," he says. "We're still looking to make our best record and put on our best show. The Stones have managed to be part of life, without becoming passé." He then added, "Also, what else are you going to do? You never grow up, you just learn a little more. I ain't getting old, I'm evolving."
When he's not busy being a rockstar, Ronnie Wood is using his fame for good. The Rolling Stones guitarist has teamed with World Animal Protection (click the pic,) an international non-profit whose working on a campaign aimed at vaccinating dogs.  To celebrate the organization's milestone of giving one million rabies vaccinations to pooches around the world, Wood, along with Leona Lewis, Jodi Picoult and Natalie Imbruglia, are calling for a million more healthy pets.   "Our dog Dolly is a wonder dog beagle extraordinaire!" Wood explains. "She's very loving. All dogs should be treated responsibly, with understanding and compassion, which is why I support World Animal Protection's campaign to create a better life for dogs around the world."

Yes drummer Alan White recently underwent back surgery in Seattle and while the surgery was a success, the recuperation is going to keep him off the road with the band.  "With some rest and physical therapy, I should be back in good form and ready to rejoin the Summer Yes Tour in the near future," he wrote on the band's website. "I'm eager to be on the road with the band but also need to ensure my recovery is complete before doing so."  In the meantime, Jay Schellen will step in for White behind the drumkit on the band's current tour, which hits the American Music Theater in Lancaster, Pennsylvania on Monday.