Police drummer Stewart Copeland is surfing in Bali, drinking the local moonshine and jamming with a Bali drum group — all in the interest of education, of course. Copeland will host a special called "Island Fever" on the Travel Channel on July 9th. He will go through a purification ceremony at an ancient temple and participate in a traditional monkey chant and fire dance. On the music front, Copeland is working on an album in Milan.
Lady Gaga, Jane Fonda, Caitlyn Jenner, and other celebrities are paying tribute to the 49 victims of the Pulse nightclub massacre in Orlando, Florida. The tribute was in a video released by the Human Rights Campaign — a gay-advocacy group. In the video, each of the celebrities reads the name, age and a biographical sketch of each shooting victim. Most of the celebrities taking part in the tribute are sombre — and the voices of a few of them break.
Can't get enough of the 1980s and 90s? A-B-C says it has a show for you. It's called "Greatest Hits" and will be co-hosted by Arsenio Hall and Kelsea Ballerini. On the six-week series, each week will see stars from past decades, — performing their hits. Tonight's premiere will feature R-E-O Speedwagon, Ray Parker Junior, , Kenny Loggins, Kim Carnes, Rick Springfield and Kool and The Gang.
Do you hate going to a concert and being blocked by all the people taking pictures and videos on their iPhones? Well, we know some artists do, and in case you missed it, Apple may have found a way to stop it from happening.  According to reports, Apple has just gotten a patent approval for new technology that would be able to disable a phone's video and camera capabilities. All an artist would need to do is place a small sensor on or near the stage that would send out an infrared signal with encoded data that would stop the camera from functioning.   As of now there's no word on whether Apple is close to achieving this technology. Companies file for patents all the time but that doesn't necessarily mean the product will come to fruition – they're just "saving their space in line."
Alanis Morissette posted a nude photo of herself on instagram sporting a large baby bump while floating underwater. The 42 year old singer announced in an animated video posted on social media in February that she was expecting a second child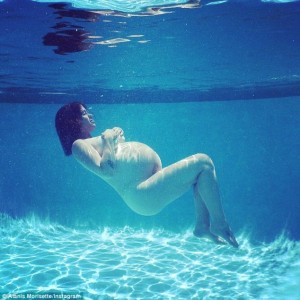 As if recording a new album wasn't enough, Metallica is finding the time to add a new gig to their resume: models.  The band has signed on to be the face of luxury Italian brand Brioni's latest collection. In the first photos released from the campaign were inspired by Queen's iconic "Bohemian Rhapsody" video and feature the guys rocking tuxedos, suits, and sunglasses. It turns out Metallica cleans up well!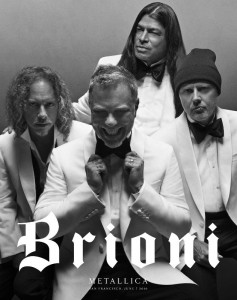 Paul Simon finishes his current tour tomorrow in Queens, the borough where he grew up, and if you didn't get to a chance to catch him on this trek, you may now be out of luck. In case you missed it, in an interview with the "New York Times," the 74-year-old, who recently released the new album, "Stranger to Stranger," says he's thinking about giving up music.  "You're coming towards the end," he tells the paper. "Showbiz doesn't hold any interest for me. None."  While he has a European tour planned in October, Paul says when it's over he hopes to do some traveling.  "It's an act of courage to let go," he says. "I am going to see what happens if I let go. Then I'm going to see, who am I?"
Van Morrison is getting ready to release some new music. "Keep Me Singing," Morrison's 36th studio album, will drop September 30th, and will feature the new single "Too Late."   The album, his first record of new material since 2012, will feature 12 new songs, as well as a cover of the blues classic "Share Your Love With Me."  Morrison will likely be performing songs from teh album on his already announced fall tour, which features six U.S. dates, and seven shows across England.  Here's a look at the "Keep Me Singing" track list:
Let It Rhyme
Every Time I See A River
Keep Me Singing
Out In The Cold Again
Memory Lane
The Pen Is Mightier Than The Sword
Holy Guardian Angel
Share Your Love With Me
In Tiburon
Look Beyond The Hill
Going Down To Bangor
Too Late
Caledonia Swing
Keith Richards is one of the most iconic rock stars ever, and the BBC is going to try and capture that…with his help. The Rolling Stones' guitarist is working with the network on "Keith Richards – The Origin Of The Species," a 60-minute doc focusing on his post-war upbringing.   "I certainly felt that for my generation, what was happening and the feeling in the air was – it's time to push limits," Richards says of his formative years. "The world is ours now and you can rise or fall on it." The film is the focal point of BBC's My Generation season and will air next month.
But wait, there's more! Richards is also teaming with the network to curate "Keith Richards' Lost Weekend," two nights of programming, including documentaries, films and live performances all hand-picked by the legendary rocker. Both nights will feature a taped introduction by Richards himself. "Keith Richards' Lost Weekend" will air in September. We'll keep you posted on exact air dates.