Red Hot Chili Peppers' latest album might be number two in North America but "The Getaway" is number one in the world. It topped the charts in Australia, Belgium, Ireland, the Netherlands, and New Zealand.  This is the Chili Pepper's 11th album and their seventh top 10 album and third number two on the Top 200 chart.  check out dark Necessities below.
It seems there's a never-ending stream of Beatles-related auctions. The latest took a turn for the grisly, however. A shirt worn by Jay Hastings, who was on duty as concierge at the Dakota when Lennon was shot, was put up for auction, complete with the late icon's blood on it.  The lot also included Hastings' signed copy of "Double Fantasy," a 1978 Thanksgiving card from the family with a printed message signatures from John, Yoko and Sean, and a typed letter from Yoko Ono two weeks after her husband's death thanking the staff for their support, in its original envelope with Hastings' name written on the front.  All in all, the collection of memorabilia was sold for over $40,800. "Jay Hastings kept this shirt all these years and never really spoke about it," Garry Shrum, from Heritage Auctions, explains. "It has just been sitting in a drawer for years and now he is getting older he felt it was time to sell it." He adds that the auction house did question whether this was "too dark" or "wrong" to sell, but ended up deciding Hastings isn't trying to exploit Lennon's death.
Steven Tyler is getting ready to release his first-ever solo album on July 15th, and he's just released the track list for the record.
For "We're All Somebody From Somewhere," Tyler has teamed up with a variety of well-known Nashville songwriters, including Rhett Akins, The Cadillac Three's Jaren Johnston, Hillary Lindsey, Eric Paslay and more. The album also features a new version of his Aerosmith classic "Janie's Got A Gun," and a cover of Janis Joplin's "Piece of My Heart," featuring The Loving Mary Band.
Tyler has already released three songs from the record, "Love Is Your Name," "RED, WHITE & YOU," and the album's title track.
"We're All Somebody From Somewhere" (check it out below) Track List:
"My Own Worst Enemy"
"We're All Somebody From Somewhere"
"Hold On (Won't Let Go)"
"It Ain't Easy"
"Love Is Your Name"
"I Make My Own Sunshine"
"Gypsy Girl"
"Somebody New"
"Only Heaven"
"The Good, The Bad, The Ugly & Me"
"RED, WHITE & YOU"
"Sweet Louisiana"
"What Am I Doin' Right?"
"Janie's Got A Gun"
"Piece Of My Heart" (featuring The Loving Mary Band
Jimmy Buffett's musical finally has a premiere date. "Escape to Margaritaville," which will feature both original songs and Buffett classics, will open May 26th, 2017 for a limited engagement at the La Jolla Playhouse near San Diego. So set your 2017 calendars – previews of the show begin May 16th, and it is expected to run through June 25th.  The musical, written by "My Name is Earl" creator Greg Garcia and "Yes Dear" comedian Mike O'Malley, tells the story of a bartender/singer at a tropical island resort who falls for a tourist.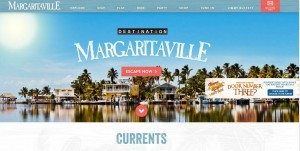 Regardless of who you support, we all can agree this election season has been pretty crazy. For Tom Morello, it's what inspired Prophets of Rage.  "There are a number of ways that one can try to effect change," Morello explains to Billboard. "You can vote every four years, you can send out very provocative tweets, or you can take the megaton catalog of Rage Against the Machine, Public Enemy and Cypress Hill songs and go out and destroy the country in a North American campaign of rock and roll/hip-hop fury. I choose the latter."  Morello and his Prophets and bandmates are hitting the road this summer, beginning on July 19th in Cleveland, Ohio and wrapping up on Chula Vista, California on October 16th. Check out their full touring schedule here.