The John F. Kennedy Center for the Performing Arts has announced who they'll be celebrating for 2016. Each year, they select a group of artists that influence American culture through music, movies, and art. This time around, pianist Martha Argerich, the Eagles, Al Pacino, Mavis Staples and James Taylor are set to be honored.
Argerich, who was born in Argentina, explains her late mother always wanted her to study and perform in America so she's sharing the experience with her.
The Eagles are accepting "in memory of our comrade and fellow traveler, Eagles founder Glenn Frey," who died back in January.
His widow, Cindy Millican Frey, will sit with the band during the ceremony. Pacino says he's "grateful and deeply humbled."
Gospel singer Staples explains she "never dreamed" she would be honored. Finally, Taylor, who has performed at the Kennedy Center Honors before, says he's "deeply moved to be included" this time around.
The ceremony, which will tributes and performances from top entertainers is set to be held on December 3rd and broadcast on December 27th on CBS.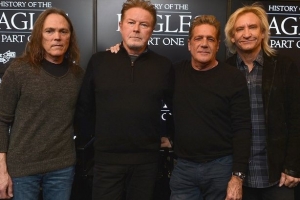 It's a win for Led Zeppelin. The band was being sued for copyright infringement by the estate of Randy Wolfe, who claims Zeppelin stole the opening riff of "Stairway to Heaven" from his band Spirit's 1968 song "Taurus." Well, it's over. And it took jurors less than a day to decide that the band didn't copy anything from Spirit.   Francis Malofiy, the lawyer for the plaintiff, says he's planning on filing an appeal, but didn't specify on what grounds. The Hollywood Reporter suggests it could be because U.S. District Judge R. Gary Klausner didn't allow the playing of certain "Taurus" recordings as the copyright was limited to the sheet music deposited with the U.S. Copyright Office.  Either way, Zeppelin's Robert Plant and Jimmy Page are happy with the ruling. "We are grateful for the jury's conscientious service and pleased that it has ruled in our favor, putting to rest questions about the origins of 'Stairway to Heaven' and confirming what we have known for 45 years," Robert they say. "We appreciate our fans' support, and look forward to putting this legal matter behind us."
Close to 200 artists and executives, including Lady Gaga, Billy Joel, Dixie Chicks, Barbra Streisand and Alicia Keys, signed an open letter published in "Billboard" magazine urging Congress to do something to stop gun violence in the states.  "As leading artists and executives in the music industry, we are adding our voices to the chorus of Americans demanding change," the letter reads. "Music always has been celebrated communally, on dance floors and at concert halls. But this life-affirming ritual, like so many other daily experiences—going to school or church or work—now is threatened, because of gun violence in this country."  It continues, "The one thing that connects the recent tragedies in Orlando is that it is far too easy for dangerous people to get their hands on guns. We call on Congress to do more to prevent the gun violence that kills more than 90 Americans every day and injures hundreds more."
Other artists who signed the letter include: Adam Lambert, Alanis Morrissette, Bonnie Raitt, Calvin Harris, Cam, Cher, Christina Aguilera, Demi Lovato, Selena Gomez, Courtney Love, Pearl Jam, Jennifer Lopez, Katy Perry, Joe and Nick Jonas, Questlove, Yoko Ono and many, many more.
Dave Grohl performed an acoustic set at a Cannes Lions event, and told a great story about how Taylor Swift came to his rescue when he was on the verge of embarrassing himself in front of Paul McCartney.  The Foo Fighters frontman explained that he was at a party at Paul's house when the former Beatle got behind the piano to perform. Paul then invited Dave to go next, but Dave immediately started panicking because he didn't play piano, and all of Paul's guitars were left handed, which he couldn't play. "Also I maybe smoked a little pot," he said. "So I was already challenged."  That's when Taylor saved the day, volunteering to play instead, at which point Dave decided to grab one of Paul's left-handed basses to accompany her, and in his confusion it took him a moment to realize Taylor was actually playing one of his songs, "The Best Of You."  "As if I wasn't high enough, that f***ing blew me into outer space man," Dave shares. "I just lost my mind, so I felt obligated to sit next to her and duet. But her voice, she's got a good voice, she can sing man." Check out video of Dave's story, plus his performance of "Best Of You" below. Note the Language is a wee colourful for work.

U2 guitarist The Edge tells Billboard all about the band's Paris gig following the November 13th ISIS attack, saying he felt like it was "part of a process of reclaiming live rock and roll in the city of Paris." "We were by no means the first event post the Paris attacks, but for us it was very symbolic and very significant," the guitarist explains. "We tried to get back as quickly as we could."  He goes on to say inviting Eagles of Death Metal on stage, the band who was playing Le Bataclan the night of the attack, was his favorite part of their December 7th show. "That moment when the Eagles of Death Metal came on stage and we handed to them one of our guitars, [bassist] Adam [Clayton] and myself, and Larry [Mullen Jr.] handed them drumsticks," The Edge remembers. "We then grabbed guitars ourselves and we joined in with them. There was that moment of handing over our stage and our instruments that was just really moving after everything that they'd been through."   As for when U2 is set to get back on the road, The Edge maintains it's going to be "sooner rather than later," but can't give us an exact date. The band is "still busting their a**" to get a new album out this year, though. "This is the working assumption. This is our ambition," the rocker says. "It could change, but we're really doing our best to get it out this year." We'll keep you posted.
Foghat just released a new version of their hit song, "Slow Ride," in honor of the tune's 40th anniversary. The fresh take is featured on the band's new album "Under the Influence," which drops today.   "We wanted to do it because it was the 40th anniversary, and it's kind of a nod and a tribute to (late Foghat guitarists) Rod Price and to Lonesome Dave (Peverett)," drummer Roger Earl, the only original Foghat member left in the lineup, tells "Billboard." "It just seemed like a good idea, and it was easy and fun to do. I love playing the song, even after all these years."  Check it out HERE