Peter Gabriel and Sting have kicked off their "Rock Paper Scissors" tour in Columbus, Ohio and anyone who thought they'd be seeing two distinct sets from the singers are in for a great surprise.  The three-hour concert kicked off with each artist singing a song, Gabriel 1982's "The Rhythm Of the Heat," and Sting "If I Ever Lose My Faith In You," before joining each other in the middle of the stage.  Describing the night as a sort of "battle of the bands," the two artists then took turns performing songs, and even sang together at times. Gabriel even tried covering Sting's "If You Love Someone Set Them Free," while Sting sang a bit of 1973's Genesis tune "Dancing With the Moonlit Knight."
Of course, fans did get to hear all the hits they came for, with Sting treating the crowd to Police classics like "Walking In Your Footsteps," "Invisible Sun," and, "Roxanne," as well as his solo track "Englishman in New York," and Gabriel performing "Solsbury Hill," "Red Rain," and "In Your Eyes." They then ended the night together with their two huge hits, the Police's "Every Breath You Take" and Gabriel's "Sledgehammer."
Here's a clip of them playing together in 1991
Nirvana music over two decades old has surfaced. The seven tracks leaked after a fan bought the original studio recording reel on eBay and uploaded them on a private Nirvana forum. Now, Alternative Nation has gotten there hands on some of the music.   Dated February 15th, 1993, the session includes two unreleased instrumentals and a Dave Grohl drum solo. One of the previously unheard tracks, "Lullaby," features strange keyboards while Grohl's drum solo is over an classic rock sounding guitar riff.  The reel also includes alternate versions of "Marigold" and "Dumb." No word on whether these songs are going to get an official release. We'll keep you posted.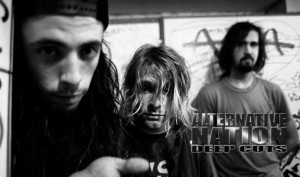 Bad news, "Vinyl" fans. Despite HBO announcing the series had been renewed for a second season, the network has cancelled the show.  "After careful consideration, we have decided not to proceed with a second season of 'Vinyl.' Obviously, this was not an easy decision," HBO says. "We have enormous respect for the creative team and cast for their hard work and passion on this project."  Variety says basically, the budget that would have gone to a "Vinyl" season two is better spent on other shows.
Graham Nash is extending his latest tour through the fall. The singer has added a leg of East Coast dates that will run through September and October.  The new dates, in support of Nash's latest album "This Path Tonight," will kick off September 23rd in Kent, Ohio and wrap October 8th in Hartford, Connecticut.  Tickets for all shows go on sale Friday.
Meatloaf is getting ready to release the new album, "Braver Than We Are." on September 16th. As we also told you, it features 10 never-before-released songs composed by Jim Steinman, who worked with Meatloaf on his hit album, "Bat Out of Hell," and its sequel, "Bat Out of Hell II."   Well, now the first single from the album, "Going All The Way," has been released. The track features Ellen Foley, who sang on the Meatloaf classic "Paradise By The Dashboard Light" and Karla DeVito, who appeared in the "Paradise" video and also sang Foley's parts during the "Bat Out of Hell" tour.  "It's a tribute to Jim Steinman really," Meat Loaf says about the album. "It's a tribute to both of us and our work together."
Led Zeppelin's battle of the iconic tune "Stairway to Heaven" continues.  Robert Plant, Jimmy Page, and John Paul Jones have all testified, claiming they did not lift the opening rift from Spirit's 1968 song "Taurus." After five days of testimony, the fate of "Stairway to Heaven" is in the hands of eight jurors.  Francis Malofiy, the lawyer for the plaintiff, songwriter Randy Wolfe's estate, has reportedly gotten more than 100 sustained objections and multiple warnings from U.S. District Judge R. Gary Klausner. Regardless of his tone and process, he maintains all his client wants is one-third credit, explaining "it doesn't minimize [Page and Plant's] amazing contribution to the song." Plus, he questioned Plant and Page's claims of having little to no relationship with Spirit, saying they're "selectively mis-remembering things that happened many years ago."
The bassist for the band that brought us the 1970s hit "Signs" ,Brian Rading of Five Man Electrical Band, died June 8th at the age of 69. He had been battling throat cancer for the past few years. "Signs" hit number three in 1971, and the follow-up single, "Absolutely Right," was number 26, but the band had no other U-S hits. Rading played in various bands through the years.
A Colorado prison inmate who claims to be Prince's son won't be getting any of the music star's believed 300-million-dollar fortune. A person who has seen a sealed document says D-N-A test results show that Carlin Q. Williams is not Prince's son.
An Emmy Award won by Whitney Houston 30 years ago for a Grammy performance is the focus of a legal fight. The television academy filed a lawsuit to block an auction house and the late pop star's estate from selling her trophy. The suit contends that Emmy statuettes remain the property of the academy and any sale violates its rights.
If there are any holes in your Emerson, Lake and Palmer collection, you're in luck. The band's entire catalogue is set to be reissued over the next year. Much like Led Zeppelin's 2015 reissue schedule, we'll get three Emerson, Lake and Palmer records at a time and chronologically.
The first three albums will be available on July 26th and come with plenty of new goodies:
The new version of their 1970 self-titled debut comes with the 2012 stereo mix and a handful of extra tracks.
Their 1971 concept album, "Tarkus," tells the tale of a creature that was part-armadillo, part-tank. The bonus disc for that one will also include the 2012 remaster and three extra songs, "Oh, My Father," "Unknown Ballad" and "Mass."
Emerson, Lake and Palmer's 1971 live take on Modest Mussorgsky's classical composition, "Pictures at an Exhibition," is the final reissue in this first batch. Its bonus disc comes with another performance of the suite, recorded at London's Lyceum Theatre on December 9th, 1970, with four other songs, "The Barbarian," "Knife-Edge," "Rondo (Pt. 3)" and "Nut Rocker."
But wait, there's more! While not technically a reissue, the three-disc collection "Anthology," which includes 39 tracks from the band's career, will also be released on July 26th.
Later this year, we'll get the next three Emerson, Lake and Palmer albums: 1972's "Trilogy," 1973's "Brain Salad Surgery" and their triple-live album from 1974, "Welcome Back My Friends to the Show That Never Ends… Ladies and Gentlemen." We'll keep you posted on the reissue schedule.
David Lynch is trying his hand at curating music festivals. Festival of Disruption is scheduled for October 8th and 9th at Los Angeles' Ace Hotel, and will feature headliners Robert Plant and St. Vincent.  Sky Ferreira is scheduled to preform and Questlove will do a DJ set, but the Festival of Disruption is more than just music. The two-day event will feature talks from architect Frank Gehry, actress Laura Dern, filmmaker Mel Brooks, and Blondie singer Debbie Harry. Fans will also get to enjoy screenings of "The Elephant Man," a "revisited" version of Lynch's 1986 film, "Blue Velvet", and "rare David Lynch shorts." Tickets for Festival of Disruption run from $199 to $349 bucks and go on sale tomorrow at 1pm ET. Proceeds will go to the David Lynch Foundation, which aims at helping at-risk populations with meditation.