Paul McCartney is mourning the los of former Wings guitarist Henry McCullough who died yesterday at age 72. McCullough was a member of Wings from 1972 through 1973 and also played with Joe Cocker's Grease Band, and was as a session musician for artists like Eric Burdon, Marianne Faithfull, Roy Harper and Donovan.  "He was a pleasure to work with, a super-talented musician with a lovely sense of humor," McCartney wrote on his official site. "The solo he played on 'My Love' was a classic that he made up on the spot in front of the orchestra. Our deepest sympathies from my family to his."
And here's a cool bit of trivia: McCullough also has another claim to fame: he's the voice that says, "I don't know, I was really drunk at the time," at the end of the Pink Floyd song "Money."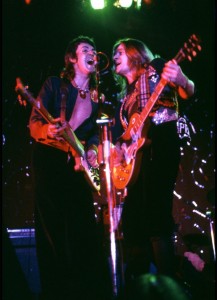 A reunion concert featuring the original members of Santana is set to air on AXS TV this weekend.  "SANTANA IV," filmed live at the House of Blues in Las Vegas, marks the first time original Santana members Carlos Santana (guitar, vocals), Gregg Rolie (keyboards, lead vocals), Neal Schon (guitar, vocals), Michael Carabello (percussion), and Michael Shrieve (drums), performed live together since 1973.  "SANTANA IV" premieres Sunday at 8 pm ET as part of AXS TV's "The 'Whole Lotta Love' Father's Day Marathon," which kicks off at 10 am.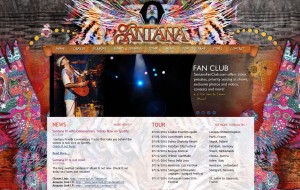 In a story from TMZ……The Foo Fighters had to cancel four shows in the wake of the November 13th terrorist attack in Paris and the band says their insurance company, Lloyd's of London, needs to pay up.   According to Foo Fighters, there's a "terrorism" clause in their insurance policy and that should cover the losses from their cancelled shows in in Turin, Italy on November 14th, Paris on November 16th and the two other gigs they nixed. The band adds that the day after the Paris attacks, their tour website was hacked with images of an ISIS flag, an automatic weapon, and the words "Be prepared."  So far, Foo Fighters claim Lloyd's is dodging the payout.
Who could possible play two of the greatest rockers of our time?  They're casting for Mick Jagger and Keith Richards for "Exile on Main Street: A Season in Hell with the Rolling Stones.  It tells the story of summer the band spent working on the album in France, before its 1972 release.
It looks like Robert Plant and Jimmy Page are in this "Stairway to Heaven" legal battle for the long run. Jury selection for the the group of eight that will determine if Led Zeppelin lifted the iconic "Stairway to Heaven" guitar riff from from Spirit's "Taurus" have been chosen and Plant and Page were in the room watching.  Naturally, the mere presence of such rock royalty left some possible jurors star stuck, including one man who was dismissed after he admitted his "love for these two guys" is "very strong."   In the end, four men and four women were selected. The trial will give each side 10 hours to present their arguments and witnesses. U.S. District Court judge R. Gary Klausner expects the trial will last four or five days.  What do you think?  Have a listen.
Paul Simon's latest release "Stranger to Stranger" is number one on the Top Rock Albums and Americana/Folks Albums charts, the first time he's reached number one on either chart.   "Stranger to Stranger" moved 67,000 copies in its first week to land at number three on the "Billboard" 200, his highest charting album since 1987.
Radiohead has put together a "unique" live streaming event to celebrate their album "A Moon Shaped Pool." Now, we're getting more details thanks to the record store Resident in London.  Aside from a broadcast of music curated by the band, Friday's event will include a livestreamed two-hour set by Radiohead, free artwork by longtime Radiohead collaborator Stanley Donwood, and prizes including figurines from the "Burn The Witch" video.
Leave it to the Red Hot Chili Peppers to put their own spin on "Carpool Karaoke." In case you missed it, the band appeared on the "Late Late Show" and jumped into a car with host James Corden to do a little singing and, weirdly, a little wrestling on someone's lawn.  The best part? At one point all the guys in the band, and Corden, go shirtless. Check out the clip to the right.