Steely Dan will be spending a lot of time in New York this October. The band will bring their "The Dan Who Knew Too Much" tour to New York's Beacon Theater for a ten-night run.  The New York shows, which will run from October 12th to 29th, will feature Rickie Lee Jones on four dates, and will also feature dates in which they'll perform an album in its entirety, including 1973's Countdown to Ecstasy" for the first time. Tickets go on sale June 9th at 10am ET.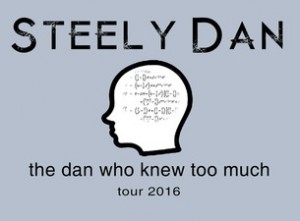 Bonnie Raitt, Chicago and REO Speedwagon are set to perform on ABC's upcoming six-part series "Greatest Hits." Hosted by Kelsea Ballerini and Arsenio Hall, "Greatest Hits" will have have each episode dedicated to a five-year period of music, with artists coming on to sing the iconic tunes from that time period.  Other artists confirmed for the show include Foreigner, Meghan Trainor, John Legend, Jason Derulo, Lilttle Big Town, Andra Day, Backstreet Boys, Boyz II Men, Ceelo,Coolio, En Vogue,  LL Cool J, Miguel, Pitbull, Rick Springfield, Wilson Phillips, Wiz Khalifa and more.  Greatest Hits is set to premiere June 30th at 9 pm ET.  Click the pic for more.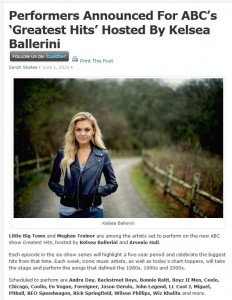 The David Bowie film "Absolute Beginners" is being reissued next month in celebration of its 30th anniversary.  The anniversary release, which will drop July 25th and be available for the first time ever on Blu Ray, as well as DVD and download, will include an hour-long documentary, featuring new interviews with director Julien Temple, actor Edward Tudor-Pole, and producers Stephen Wooley and Nik Powell.  In addition to acting in the film, Bowie sang the film's theme song. And he wasn't the only musician in the movie, Ray Davies and Sade appeared in it as well.   Check out the trailer.
If you see any unreleased music from The Who released online, you can be sure Roger Daltrey had nothing to do with it. He feels the internet's effect on the music industry is "the biggest robbery in history."  "The internet makes it look like musicians should work for nothing" the Who frontman explains. "Musicians are getting robbed every day. The internet is a slowly but surely destructive thing. I don't think it's improved people's lives. It's just made them do more work and feel like they're wanted a bit more, but it's all bollocks."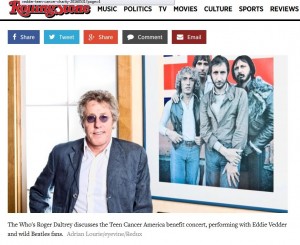 If you thought Steve Miller was going to let the whole "The Rock and Roll Hall of Fame is the worst" thing go, you were mistaken. The rocker, who has been very public with his dislike of the institution, says he's not done yet.   "It's gonna get better. I'm gonna get these guys. They're gonna be sorry that they treated all these people this way," he explains. "I'm planning to keep it in the news. I'm planning to investigate them. I've already got all of their public documents. I want to see where they're spending the money. I wanna see who's being paid. I wanna check it all out."  In the same interview, Miller addresses the weird beef between himself and the Black Keys, who claim the recently inducted rocker was the worst part of their experience. 
"I never was introduced to the Black Keys," he notes. "I walked in through security, and there's this guy [frontman Dan Auerbach] looking at me, making goo-goo eyes at me or something. I walk up to him, and I go, 'What are you doing tonight?' And he says, 'I'm reading your speech.' I say, 'Oh, great. I can't wait to get the f*ck out of here.' And I didn't know who he was!" Miller figures if they had been introduced, they would have gotten along because "we like the same kind of music and they're working musicians and stuff."
We'll keep you updated on both Miller's investigation and his friendship with the Black Keys.
Check out the full story on Vulture.
The Axl Rose fronted AC/DC is coming stateside this summer. The band, which has been busy trying to change naysayers minds in Europe, is set to kick of their run of rescheduled US dates on August 27th in Greensboro, North Carolina. That happens to be just five days after Rose wraps up his reunion with Guns N' Roses.  Check out Axl/DC's American dates below and get more details on AC/DC's site: 
Paul Simon has always been funny, but he's not sure you know that. Simon says he's had a lot of humour in his music but people don't know he's kidding. As he puts it, "My mind works in comedy a lot but my voice is not a comedic voice." Simon is putting out a new album called "Stranger to Stranger" tomorrow that incorporates oddball instruments. Simon always wonders if every album will be his last one, but then he gets restless. He says six months later he'll have an idea and he begins another one.
The reason Smokey Robinson feels so good at the age of 76 is because he thought about that when he was 20. Robinson says he's been playing sports his whole life and running marathons with the hope that it would be beneficial to him when he got to this age. Robinson has also been a vegetarian since 1972 and a vegan for the past 14 months. He's planning to launch a line of skin care products with his wife, Frances, that's aimed at people of colour. The men's version is called "Get Ready" and the women's line is called "My Girl."