Ontario's attorney general wants to find out why so many Tragically Hip fans couldn't buy tickets for the band's summer concerts unless they were willing to pay many times the tickets' face value on resale sites. Madeleine Meilleur sympathizes with fans and says her ministry will look at the development and how it can be fixed. Fans across the country complained the batch of tickets for fan club members were sold out almost instantly when they went on pre-sale Monday, and exorbitantly priced tickets quickly turned up on secondary resale sites. The Tragically Hip announced last Tuesday that lead singer Gord Downie has terminal brain cancer and the band will go on a Canadian tour this summer.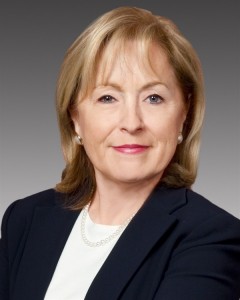 The C-B-C wants to broadcast the Tragically Hip's final concert in Kingston, Ontario this summer.
There's speculation it could be the band's last-ever big show, given the recent news that Gord Downie has terminal brain cancer. The broadcaster says it is having conversations with the band to see if it can make it happen.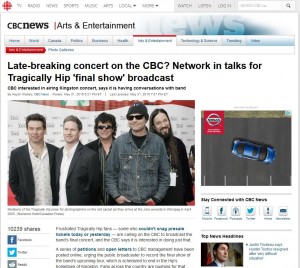 —
For all you bands out there, don't compare yourselves to The Beatles. As you might recall, Oasis famously told MTV back in 1996 that they were bigger than the Fab Four and according to Paul McCartney. Many say that's what did them in.   "Oasis were young, fresh and writing good tunes," McCartney tells Q. "I thought the biggest mistake they made was when they said 'We're going to be bigger than The Beatles'.  I thought 'So many people have said that, and it's the kiss of death.'" It's not that Macca was worried about his band's legacy, he just knew it would change the way the public viewed Oasis. "Be bigger than The Beatles, but don't say it," McCartney adds. "The minute you say it, everything you do from then on is going to be looked at in the light of that statement." For what it's worth, Noel Gallagher admitted back in 2015 that he was high when he made the now infamous remark.
Ronnie Wood is both a senior citizen and a new dad. The 68-year-old Rolling Stones' guitarist and wife Sally have welcomed twin girls into the world.  "Gracie Jane and Alice Rose arrived on May 30th at 10:30 pm and all are doing brilliantly," a spokesperson for the couple confirms. "The babies are perfect."  These are the first children for 38-year-old Sally and the fifth and sixth for Wood. He has four adult children from his first two marriages. Click the pic for the full story from The Sun.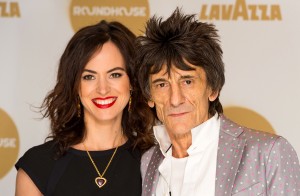 In a story from Rolling Stone…When it was announced John Mayer would be joining what remains of the Grateful Dead to form Dead & Company, there were plenty of naysayers. Dead co-founder Bob Weir, however, has been nothing, but impressed.  "First off, he gets what we're up to. And he loves the idea," Weir explains. "It appeals to his sense of fun and adventure. Then he brings his musical personality – all of the stuff he's looked into." The rocker goes on to call his new bandmate "deep" and a "monster musician."   While the lineup is rock solid, Weir isn't sure if Dead & Company will ever make it to the studio. "What direction do we pursue with recording? Do we start from scratch, do all new material? Or do we go back after some of the tunes that were never recorded [by the Dead] in the studio?" Weir says. "Or a combination of both – which is kind of where I would want to do it."   In the meantime, Weir does know one thing: if the band has any intention of putting out an album, they need to put in "another tour or two."
Is the new Metallica album actually almost done? According to drummer Lars Ulrich, YES! In case you missed it, he told Metal Forces the band is putting the finish touches on the album this month. "The month of June is basically when we're gonna sit down and figure what we're gonna do with it all," he explains. "What we're gonna call it and what's gonna be on it."   Unfortunately, that doesn't mean the new record will be released in 2016. "If the record doesn't come out this year, then it won't be because it's not done. It will be because there's some sort of cosmic reason that it would be smarter to hold onto it until next year. But the record will be done this summer."