The Tragically Hip has added another date in B-C — one of four extra shows the band has announced due to what it says was an overwhelming demand for tickets to its last concert tour. The July 26th concert in Vancouver is in addition to the earlier announced date in the city of July 24th. The tour kicks off in Victoria on July 22nd. The band announced its farewell tour last week, after revealing that frontman Gord Downie had been diagnosed with terminal brain cancer. Click here fore tickets.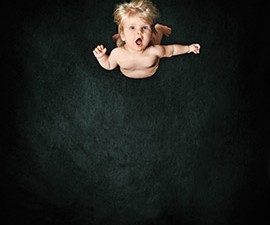 Tickets for the Fort McMurray Fire Aid Benefit concert in Edmonton June 29th are available at all ticketmaster outlets . Nickelback, Blue Rodeo,,Randy Bachman ,Alan Doyle and Dear Rouge are among several Canadian musicians set to hit the stage. And BackFortMac is the name of a benefit concert slated for next month in Toronto to support residents of Fort McMurray. Blue Rodeo's Jim Cuddy will headline the June 27th concert.  The funds will go to the Red Cross.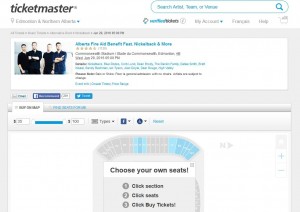 It was a good week to be a veteran rock star. New records by Eric Clapton, Bob Dylan and Tom Petty's band, Mudcrutch all cracked the Top Ten this week.  Clapton did the best of the three, moving 46,000 units of his new album, "I Still Do," to debut at number six on the "Billboard" 200 Album chart, making it his 16th Top Ten album.  Dylan was right behind him at number seven, moving 42,000 units of "Fallen Angels," making it his 22nd Top Ten album, which extends his record for the most Top Ten records from a male artist since 1963, when the chart combined mono an stereo albums into one list.  Finally, Petty's band Mudcrutch, which includes Petty and Heartbreakers Mike Campbell and Benmont Tench, land at number ten with their second album, aptly titled "2." They moved 33,000 equivalent album units, which is just a bit less than their 2008 self-titled first record, which debuted at eight.
Elton John regrets he did not get to meet with Russian President Vladimir Putin during his trip to Moscow, but he's leaving the door open to future meetings. John told a crowd at a Moscow concert hall yesterday he thanked Putin for inviting him to "discuss some serious issues in Russia, including LGBT and HIV and AIDS." He says he hopes they can meet eventually. John has criticized a Russian law against gay propaganda and Putin's comments suggesting gay people prey on children. Putin called John in September to say he'd be willing to meet. His call came after Russian pranksters posed as Putin and fooled John with a phone call.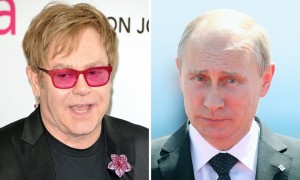 Billy Joel gave a shout out to Donald Trump at his concert at New York's Madison Square Garden, although we wouldn't exactly say it was an endorsement of the Republican presidential candidate.  Calling Trump "very entertaining," Billy dedicated the song "The Entertainer" to Trump, although there has been some question as to whether he was being serious or was onlly joking. Billy later clarified to Time, "I'm in the entertainment business. Donald Trump's campaign has been very entertaining. Aside from that, who cares about the political opinions of a piano player?"   But one person who clearly thought Billy's comment was serious, was Trump himself, who responded by tweeting, "Thank you @BillyJoel- many friends just told me you gave a very kind 'shout out' at MSG. Appreciate it- love your music!"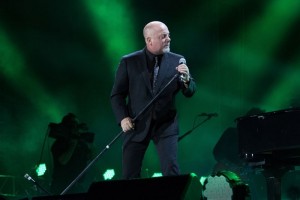 What's better than a Bruce Springsteen concert in Dublin, Ireland? How about one where the countries' native son Bono shows up?  Well, that's exactly what happened at the second of Bruce's two concerts at Dublin's Croke Park, when The Boss brought out Bono for a performance of the Patti Smith classic (which was written by Bruce) "Because the Night."  Bruce and Bono have had a lot of practice singing that song together. Back in 2003, Bono joined Bruce and the E Street Band to perform it in Miami, and in 2009 Patti joined them for a performance of it at the Rock and Roll Hall of Fame 25th anniversary concert at Madison Square Garden in New York. Check out the latest performance to the right.
He may be smack in the middle of some serious marriage woes, but Ozzy Osbourne put that aside to meet youngsters receiving treatment at Birmingham Children's Hospital in the UK over the weekend.  Osbourne is hoping to lend his star power to help the hospital build a pioneering Rare Disease Centre. "They do amazing work for kids and I'm really pleased to drop in and once again show my support," said Ozzy. "It'll be a national center that will help families not only in my hometown, but also across the country."