In a story from The Guardian….Looks like Elton John won't be meeting with Russian President Vladimir Putin when he hits Russia next week.  As you may remember, after two comedians claiming to be Putin pranked Elton the Russian president actually called the singer and agreed to meet to talk about the country's attitude towards gay people. But it appears that meeting won't be happening so fast, since the Kremlin said they couldn't find an appropriate time in the schedule for the meeting.  "We were in correspondence with [Elton John] a couple of weeks ago, because there had been an agreement that, if their schedules allow, this meeting would take place," Kremlin spokesperson Dmitry Peskov explains. "Their schedules do not match up. But this does not mean that such a meeting won't take place next time."  Elton is due to play Moscow on Monday.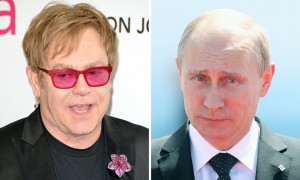 Perhaps it's the Crazy Train just waiting to happen: the city of Birmingham, England, has named a tram after Ozzy Osbourne. He attended the launch ceremony yesterday and rode on its first trip. Osbourne says his personal journey from growing up in Birmingham to becoming an international star has been "incredible," but he has never forgotten his roots. He says, "Once a Brummie, always a Brummie."  Click the pic for the video.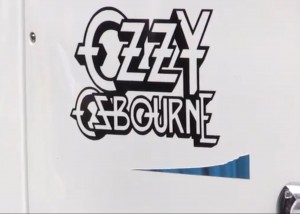 The British Royal Mail will honour Pink Floyd with a series of postage stamps. The series will depict the band's album covers from "The Piper At The Gates Of Dawn," "Atom Heart Mother," "The Dark Side Of The Moon," "Wish You Were Here," "Animals" and "The Endless River." Pink Floyd has given approval. The stamps go on sale in Britain on July 7th.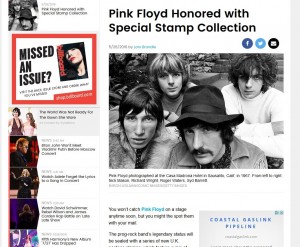 In a story from NME…..Could you imagine Paul McCartney judging a reality show? Well, that's what producers of the UK version of "The Voice" had wanted. According to a report, ITV bosses were "desperate" to get Sir Paul in one those swiveling red chairs, but alas, he turned them down.  A source close to the singer told NME, "An approach was made, but Paul won't be doing it."  For the upcoming season, premiering next year, the reality show is moving networks from BBC1 to ITV, and two coaches, Kaiser Chiefs singer Ricky Wilson and Paloma Faith, have already decided not to return. Rumors have suggested that Robbie Williams and Jennifer Hudson have been approached about joining the show.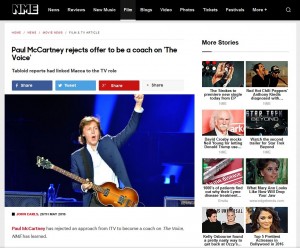 When you think Dave Grohl, you probably think of either Foo Fighters or Nirvana. But now his pre-Seattle band is getting its turn in the spotlight. SCREAM's final album, 1993's "Fumble" is being reissued.  "Hey weirdos….once upon a time, when I was just a wee lad, I played drums in a punk rock band from the Washington DC area called SCREAM," Grohl explains on Facebook. "I had grown up buying their records and going to see their live shows, and eventually had the honor of becoming their drummer at the age of 17. Fresh out of high school, I started touring the world with them from 1987-1990." He goes on to urge fans to check it out because "it might just change your life, it sure changed mine."  For more details about the reissue, head to Dischord Records' official site.
https://www.youtube.com/watch?v=4x3QQ4wFxy0
Rock fans, get ready to take a trip back to 1993. The supergroup Hater's debut album is getting a reissue.  The group, made up of Soundgarden's Ben Shepherd and Matt Cameron, John McBain of Monster Magnet, and Brian Wood of Devilhead, released their self-titled album before Soundgarden's 1994 GRAMMY-Award winning album "Superunknown."  The reissue of "Hater" will be available on CD and, for the first time, digitally and on vinyl, on July 15th. Check out the track list below:
1. "Mona Bona Jakon"
2. "Who Do I Kill?"
3. "Tot Finder"
4. "Lion And Lamb"
5. "Roadside"
6. "Down Undershoe"
7. "Circles"
8. "Putrid"
9. "Blistered"
10. "Sad McBain"