We're one day closer to getting a new Bon Jovi album. The band took to Twitter to announce their latest album is officially done and share a group photo from Electric Lady Studio in New York City.  There's still no word on when fans can expect the new album, but according to Billboard, it's called "This House Is Not For Sale."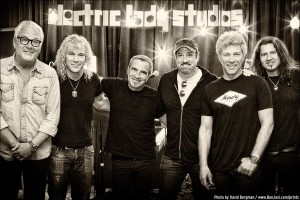 As we previously reported, the band Spirit is taking Led Zeppelin to court over claims that "Stairway to Heaven" illegally borrows from a track Spirit released three years prior to the iconic 1971 song. Now, the case is getting in Robert Plant's way.   Both Plant and former bandmates Jimmy Page and John Paul Jones are expected to appear in court and the frontman has had to cancel his June 19th performance at London's Meltdown music fest in order to make it.  So far, it's the only date that's been compromised for the case.
Allman Brothers Band fans have a lot to look forward to this summer. In case you missed it, nine remastered Allman Brothers albums will be reissued July 12th on audiophile-quality 18-gram vinyl.  The nine albums span from 1969-1979, and include "Idlewild South," "At Fillmore East," "Eat A Peach," "Brothers and Sisters," "Win, Lose or Draw," "Wipe The Windows," "Check The Oil," "Dollar Gas," "Enlightened Rogues." In addition, "Live at Ludlow Garage: 1970" will make its vinyl debut.  All the albums will be available individually, but fans can also order them in a box set, which comes in a Georgia-style wood peach crate.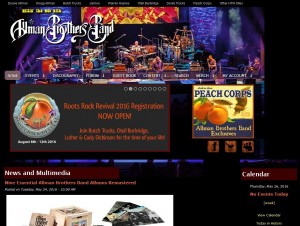 The honors are still coming in for David Bowie. The Council of Fashion Designers of America Fashion Awards is set to pay homage to the Thin White Duke during their June 6th ceremony.  The musical tribute will include a performance from Michael C. Hall, who starred in Bowie's off-Broadway musical "Lazarus." Tilda Swinton, who starred in Bowie's music video for "The Stars (Are Out Tonight)," from his 2013 album, "The Next Day," will accept the award on Bowie's behalf. The CFDA Awards organizers have been keeping details closely-guarded, but rumor has it Jennifer Hudson is going to perform a Prince tribute to close out the night. We'll keep you posted.
Neil Young was recently quoted as saying that he's now fine with Donald Trump using his music, noting, "once the music goes out, everybody can use it for anything."  Well, one person who doesn't think too much of Neil's comments is his old Crosby, Stills, Nash & Young bandmate David Crosby. When someone sent him a link to the story asking for his opinion, Crosby chimed in, "Everybody makes mistakes sometimes, There's one."  Crosby isn't known for ever holding his tongue, and has actually ruined his relationship with his bandmates because of his big mouth. He once angered Young by referring to Young's girlfriend, Daryl Hannah, as "purely poisonous predator," and Graham Nash won't work with him now, saying, that he "treated me like sh*t."