After getting the bad news yesterday that Tragically Hip's Gord Downie has terminal brain cancer, we were told the band is planning a summer tour.  His doctors say they don't have a problem with that and there should be nothing medical preventing Gord from touring. The band put out a statement saying they all wanted to do the tour and they plan to make it the best ever.  They just released all 11 Canadian tour dates this morning.  They kick off the tour in Victoria July 22 then Vancouver July 24 Edmonton July 28 and Calgary August 1st.   They wrap up the tour in their hometown of Kingston August 20.  Tickets will be available next Friday (June 3.)  Click the pic or here for all the dates.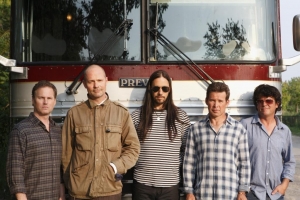 Paul McCartney recently sat down for an interview for BBC Radio's "Mastertapes," where he reportedly made some startling revelations. Among them:
He was so upset when Beatles broke up that he started drinking. "I was so depressed. You would be. You were breaking from your lifelong friends," he says, noting that the drinking, "was great at first, then suddenly I wasn't having a good time … I wanted to get back to square one, so I ended up forming Wings."
As for Wings, he now admits that the band, which included his wife Linda McCartney, was "terrible." "We knew Linda couldn't play, but she learned, and looking back on it, I'm really glad we did it," he shares. "I could have just formed a supergroup, rung up Eric Clapton and Jimmy Page and John Bonham."
He's also "grateful" he reconciled with John Lennon before his death, and admits the song "Here Today" was his way of telling John he loved him. Paul shares, "I couldn't have said that to him unless we were extremely drunk — 'I love you, man!' — but you can put these emotions, these deeper and sometimes awkward truths, in a song."
Oprah Winfrey advised him not to collaborate with Kanye West on the song "All Day," because of Kanye's use of the "N" word in it. "People like Oprah, who's a little conservative about that stuff, said, 'You shouldn't do it, even black people shouldn't use that word,'" Paul explains. "I said, 'Yeah, but it's Kanye! And he's talking about an urban generation that uses that word in a completely different way. It's the context.' So I was actually pleased with it."
ONE MORE THING! Paul is promoting his upcoming retrospective "PURE McCartney" using virtual reality. Paul will be featured in six VR mini-documentaries, featuring interviews conducted in his British home studio. The 67-song "PURE McCartney" drops June 10th.
Neil Young is no longer upset Donald Trump used "Rockin' In The Free World" at the rally where he announced his candidacy for President.  Young, who supports  Bernie Sanders, initially sent Trump a cease and desist letter, saying he was "not authorized" to use the tune, although Trump said he paid for the rights to use the song, but stopped using it "out of respect for Young."  Well, now Young admits that Trump was in his rights to use the track, he just wishes the reality star-turned-candidate would have asked first. "The fact that I said I was for Bernie Sanders and then he didn't ask me to use 'Rockin' in the Free World' doesn't mean that he can't use it," Young explains. "He actually got a license to use it. I mean, he said he did and I believe him. So I got nothing against him. You know, once the music goes out, everybody can use it for anything."
Liam Gallagher has two words when it comes to getting Oasis back together: "F**k Oasis." As we reported previously, the rocker's brother and former band mate Noel has said he would reunite with Oasis…for $20-million. Based on the Twitter rant Liam went on, it seems like it might cost a little more to get him on board.  Not only does he literally curse the band, but he calls his brother a "potato" for good measure. "Champagne Supernova," indeed.
It's the end of an era for Shake, Rattle & Read record store in Chicago. After 50 years in business, the store is set to close its doors and believe it or not, they're giving away their entire stock for free.   Owner Rick Addy is making the move to being an online-only store. "I've stayed in business so long because I've adapted to whatever is happening, technology-wise," he explains. "Now, I'm just going to be an online seller. But I'm going to miss the physical store and physically talking to people, which is what I'm good at."
In the meantime, if you're in the area and want any of the books, magazines, or records left at Shake, Rattle & Read, you have until the close of business today.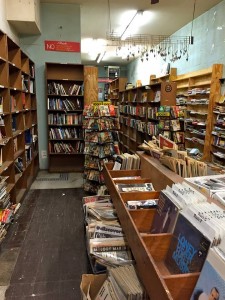 Two people claiming to be heirs of Prince's estate are objecting to having to take blood and genetic tests to prove their relationship to the musician. Brianna Nelson and Jeannine Halloran, on behalf of her minor daughter, have filed estate claims in Carver County District Court. Nelson says her father was Prince's half-brother, making her Prince's niece — and Halloran says her minor daughter is Prince's grandniece.
Celine Dion, Ludacris and Bono will put on red noses to help children in need. They will participate in the "Red Nose Day Special" tomorrow on N-B-C. It will also include Elton John, Blake Shelton, Mandy Moore, Tyler Perry, Julia Roberts, Ellen DeGeneres, Jack Black, Julianne Moore, Liam Neeson, Sarah Silverman, Key and Peele, Will Ferrell and the cast of "The Walking Dead." The special will feature music and comedy sketches. Money raised will fund projects in some of the neediest communities in the U-S and around the world.