The Tragically Hip has broken the news that lead singer Gord Downie has terminal brain cancer.  They made the announcement on their website.  Downie was diagnosed in December and has been fighting the disease hard since then.  Despite the diagnoses they have decided to go on tour this summer.  No dates have been set yet.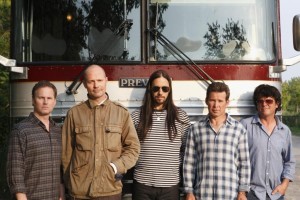 Believe it or not, it's been 40 years since The Ramones released their self-titled debut and what better way to celebrate than with a deluxe reissue?  A special four-disc edition of "The Ramones" features a remastered version of the 1976 album, a 14-song disc of alternative mixes, outtakes and demos, and complete recordings from two gigs recorded at Los Angeles club The Roxy on August 12th, 1976. The collection also comes with a vinyl version of the new remastered album. Other goodies include an essay penned by album producer Chris Leon and photos by Roberta Bayley, whose picture of the band is featured on the album cover. This special anniversary edition of "The Ramones" hits stores on July 29th.
Some unreleased David Bowie recordings will be a part of a new music docu-series set to air on Britain's BBC 4.  According to NME, "The People's History Of Pop," a four-part series covering music fans' recollections of 1956-1996, may feature Bowie's 1969 demo of "Space Oddity," featuring alternative lyrics, as well as Bowie's 1967 comedy single "The Laughing Gnome."  It may also include a never-before-heard demo of Bowie performing Frank Sinatra's classic "My Way. " Bowie was asked to contribute English lyrics to the French original "Comme D'Habitude," although Sinatra went with Paul Anka's lyrics.  The documentary is still being put together but is expected to air sometime in July.
Dave Matthews Band is trying to find the best of both worlds when it comes to performing in North Carolina. Plenty of artists have cancelled gigs in the state after the "Bathroom Bill" was passed, while some feel the show must go on, despite politics.  Well, Dave Matthews Band's May 27th show is going on as planned, but proceeds are going to support organizations defending equality in the state, including the American Civil Liberties Union (ACLU), Lambda Legal, ACLU of North Carolina, Equality NC, and Time Out Youth.   The money will be filtered through DMB's Bama Works Fund but it was set up with help from NC Needs You, an organization encouraging artists to honor their tour dates in North Carolina despite the controversial HB2 bill.
Steven Tyler, Dave Matthews  and Joan Jett are among the stars teaming with Discovery Channel for a new six-part series that will explore the wonders of the natural world.   "Hello World" will tell the stories of the animal kingdom, featuring music and narration by six musicians. Also on board for the series are Christina Aguilera, Ellie Goulding and Usher.  Songs featured in the program include Christina's "Light Up The Sky," Ellie's "Something in the Way You Move," Usher's "Stronger," Tyler's "Red White and You," Matthew's "Save Me," and Jett's "Bad Reputation," for an episode about animals that get a bad rap.  "Hello World" will kick off July 9th, with two episodes airing each week for three consecutive weeks.
A long-in-the-works Grateful Dead documentary may soon be seeing the light of day, and just like one of the band's extended jams, it's going to be massive. According to Showbiz 411, the official Dead doc, first announced two years ago, will likely run close to four hours, and may wind up being a miniseries. It is expected to feature archival footage, as well as all the band members and their families.  The site reports that the project, directed by Amir Bar Lev, may debut at the Toronto Film Festival, which takes place in September.
Alanis Morissette is taking her former business manager to court, saying he was robbing her blind. The Los Angeles Times reports Morissette is suing Jonathan Schwartz of G-S-O Business Management. She alleges Schwartz siphoned nearly 4.8 million dollars from her accounts in four years beginning in 2010. She says she found out about it after hiring a new business manager in March. Morissette says Schwartz told her in April the money went to her investment in illegal marijuana operations, which she denies. G-S-O is suing Schwartz for breach of contract and asking for him to repay a 588-thousand-dollar advance. Schwartz could not be reached for comment.
—
Madonna is taking the high road against the haters of her Prince tribute at Sunday's Billboard Music Awards. She performed "Nothing Compares 2 U" and then was joined by Stevie Wonder for "Purple Rain." She writes on Instagram that whatever your age, gender or skin colour, anyone is welcome to do a Prince tribute. She adds, "If you loved him and he inspired you, then show it!" The B-E-T Awards are planning their own Prince tribute next month, and B-E-T tweeted, "Yeah, we saw that. Don't worry. We got you." Questlove, who introduced Madonna's performance, told fans they should "not get ugly" in wondering what Prince would approve of.