When David Bowie died back in January, the world may have lost a true legend. But Duncan Jones lost his dad. While promoting his movie, "Warcraft," Jones said that he was able to keep going with the movie because he had proper time to say goodbye to Bowie. "We found the time to do all of the family stuff that we wanted to do, got a chance to spend some time together have our talks and say our goodbyes and things like that," the director explains, adding that when he got back to set: "it was about compartmentalizing." Aside from saying goodbye to his dad and releasing a movie, Jones is also going to be a father himself this year. For those who don't know, he and wife Rodene Ronquillo are expecting a child and it turns out the Thin White Duke got to play a special role in the unborn baby's life. The Jones' doctor wrote down the gender on a card and it was Bowie himself who announced to the soon-to-be parents what the sex of the baby was.  "Warcraft" is due out in theaters on June 10th and baby Jones is due out next month, as well. Congrats on all fronts.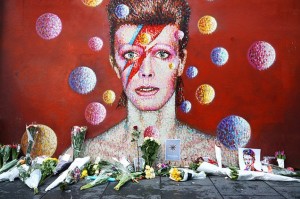 As we previously told you, Brad Paisley's first single off his upcoming album is "Without a Fight," a collaboration with Demi Lovato, but it seems Demi isn't the only big name that will appear on the record.  Brad recently revealed that Rolling Stone frontman Mick Jagger will guest on the album, with Brad telling "Taste of Country" that the song is "gonna flip you out." Brad also says he co-wrote a song with John Fogerty  and suggests that he also may have worked with Timbaland on a tune, explaining that he wanted the album to feature "collaborations that took me outside what you would typically think."  Meanwhile, as for "Without a Fight," it's only been out since Friday and it's already huge, scoring the most single day radio adds of Brad's career with 120. The tune also debuted at number 27 on "Billboard's" Country Airplay chart and at 34 on the Country Aircheck/Medibase chart.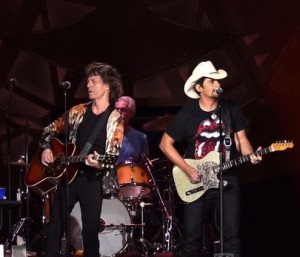 When Gene Simmons called Prince's death "pathetic," his Kiss bandmate, Paul Stanley, called him out and apologized on his behalf. That doesn't mean, however, you can bash Simmons and get away with it, just ask Nikki Sixx. The Motley Crue rocker joined in the chorus of people slamming Simmons' comments, going so far as to say "we have no respect for Gene Simmons any more – nobody in rock does." And that did not sit well with Stanley. "Jesus Christ Nikki Sixx!" Stanley offers via Facebook. "Would you please shut up, find another way to be in the news and get off your self inflated pedestal." He goes on to point out Simmons' influence and his charitable endeavors and tells Sixx to "move on." According to Team Rock, Sixx swung back. He reportedly wrote on Facebook that Stanley "can't save" Simmons and suggests using "Move On" as the title for the next Kiss album. "We all give to charities and support our troops because that's the right thing to do with our success," says Sixx. "Telling a depressed kid to kill themselves etc is not, so don't confuse issues." The Motley Crue rocker may have also had some second thoughts about the situation – because his original post has since been deleted.
Eric Clapton has set the record straight regarding rumors the late George Harrison appears on his new album "I Still Do," which drops Friday.  The rumors started after it was revealed that a guitarist named "Angelo Mysterioso" was credited on the song "I Will Be There." Many folks thought it could be the late Beatle because the name was similar to "L'Angelo Mysterioso," a pseudonym Harrison used on the Cream track "Badge."  But Clapton now insists Harrison isn't on the new record. "It's not George," Eric tells "Guitar World." "The thing is, the person wishes to remain anonymous. So we came to that arrangement and we both thought it was the best idea."  And don't expect Eric to ever crack. He adds, "I'm sworn to secrecy, and I hope he is, too. But I quite liked it."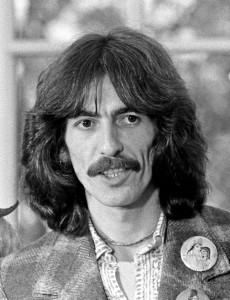 Yes fans will remember the late 1980s offshoot band Anderson Bruford Wakeman Howe. Now say hello to Anderson Rabin and Wakeman, or A-R-W. Original Yes singer Jon Anderson is teaming with guitarist Trevor Rabin and keyboardist Rick Wakeman for new music to be released later this year and a tour that begins October 4th in Orlando. They have not played together since the 1990 Yes "Union" tour that featured members of the band from both the progressive years and the pop years. Wakeman calls A-R-W "the holy trinity of Yes."  And happy birthday to Rick Wakeman.  He's 67.
Elton John has confirmed the rumors that he'll appear in the upcoming "Kingsman" sequel, "Kingsman: The Golden Circle."  The singer announced the news on Instagram, with a picture featuring the tag "Wednesday Night's Alright For Fighting," a nod to his hit song "Saturday Night's Alright for Fighting." He captioned the pic, "It's been a long time since Tommy….. #Kingsman." (Elton appeared in the 1975 movie based on The Who's "Tommy.")  "Kingsman: The Golden Circle" hits theaters June 16, 2017.
ONE MORE THING! Elton penned an open letter posted on The Hill blasting North Carolina governor Pat McCrory's decision to sign the stat'es HB2 law, which is discriminatory to the LGBTQ community. "This brand of ignorance deliberately shuts out the perspective of an already marginalized community. It's dangerous, and it goes beyond bathrooms," he wrote. "McCrory and others who support these discriminatory bathroom bills need to reverse course, but moreover, they need a lesson in compassion. They need to recognize the existence of trans people, and they need to acknowledge that all people have a fundamental desire — and a fundamental right — to be treated fairly."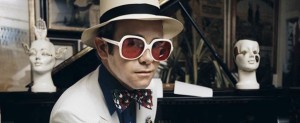 Lou Reed fans, it's time to clear a huge space on your shelf for an upcoming box set. "Lou Reed – The RCA & Arista Album Collection" is a 17-disc collection including 16 studio and live albums released between 1972 to 1986.  The set comes with an 80-page hard-bound book featuring memorabilia from Lou's personal archives, rarely seen photos and artwork, interviews with Lou and in-depth liner notes. The deluxe box also comes with five 8″x10″ prints and a reproduction of a promotional poster.  What's more, putting together this collection was Reed's last project before he died back in October of 2013, giving an even more sentimental touch to this retrospective.   "Lou Reed – The RCA & Arista Album Collection" hits stores on October 7th but you can pre-order it now on iTunes and Amazon.