This July, the Osbourne men are hitting the road. Ozzy Osbourne and son Jack are co-starring the new History channel show, "Ozzy and Jack's World Detour."  The hour long, 10-part series will find the duo crossing iconic landmarks of their bucket list and visiting historical artifacts along the way.   "[It's] like a father and son spoof on history. We went to Stonehenge and met a guy who thinks he's the f—ing reincarnation of King Arthur. And we went to Bletchley Park to see the machine [Alan Turing] used to break the [German] kind," Ozzy teased back October. "We're going to Mount Rushmore, to the abandoned silos where America used to have their Minutemen missiles and all that. It's educational for me, actually — history with an Osbourne slant."  "Ozzy and Jack's World Detour" premieres July 27th at 10 pm ET on History.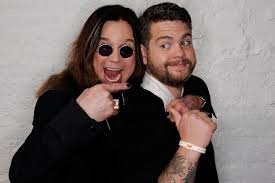 The documentary set to tell the story of Oasis now has a title and a general release date.  "Supersonic" is from the same team that brought us the Oscar winning Amy Winehouse documentary "Amy" and will tell follow Oasis from their formation in 1991 to their break up in 2008. "Supersonic" is set to hit theaters in October.
Paul McCartney confirms the death of longtime Beatles publicist Tony Barrow. McCartney says Barrow was "super professional but always ready for a laugh." Barrow died Saturday in England at the age of 80. Barrow is the man who coined the phrase "Fab Four" in an early press release and would often ghost-write articles for The Beatles in their fan club newsletter. Barrow wrote the liner notes for the first three Beatles albums. He also came up with the idea for The Beatles to send out Christmas greetings to their fans each year. Barrow later did publicity for The Kinks, the Bay City Rollers and the Jackson Five.
A very cool video for Coldplay's single 'Up & UP'
What's the trick for getting a massive popularity boost? Release a single after a two decade hiatus.  The Stone Roses released the single, "All For One," last week. Since then, streams of the band's music have jumped 500%.  The band is working on a new album, which will be their first since 1994's "Second Coming," there's no release date scheduled yet. We'll keep you posted.
Germany is honouring Motorhead frontman Lemmy with a limited run of postage stamps. Motorhead's Facebook site reports the stamps are close-ups of Lemmy and will only be printed through June 17th.
Dee Snider of Twisted Sister will help open an exhibit on politics and music at the Rock and Roll Hall of Fame in Cleveland. Snider will perform an acoustic version of "We're Not Gonna Take It" for Thursday's opening of "Louder Than Words: Rock, Power and Politics." Snider's memorabilia is part of the exhibit. He was one of the musicians to testify before the Senate in 1985 about music labeling, and presidential candidate Donald Trump has adopted "We're Not Gonna Take It" for a campaign song. The exhibit also includes John Lennon's guitar from his "Bed-Ins for Peace," letters between F-B-I and Priority Records regarding Public Enemy's "Fight The Power" and original handwritten lyrics to Bob Dylan's song "The Times They Are A-Changin"' and Green Day's "American Idiot." The exhibit runs through November.