It's no secret that tickets to some concerts are astronomical these days, but Live Nation is doing their part to get more people to shows this summer. The promoter is bringing back last year's 20-dollar "Kickoff To Summer" ticket promotion, which will offer the discount tickets to over 1,000 shows by 150 artists.  The quantity of tickets offered will depend on a venue's capacity, with the majority of the $20 tickets being general admission lawn seats.  The promotion is set to kick off Friday. Artists participating include 5 Seconds of Summer, Demi Lovato and Nick Jonas, Bob Dylan, Alabama Shakes, Black Sabbath, Brad Paisley, Brantley Gilbert, Darius Rucker, Death Cab for Cutie, Ellie Goulding, Garbage, Keith Urban, Ice-T, Dierks Bentley, Def Leppard, Rachel Platten, Pat Benetar, and many, many more. Click here for a complete list.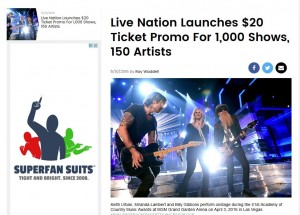 Dave Matthews Band kicked off their summer tour with a little philanthropy. The band started their 25th anniversary summer run with a sold-out benefit in their hometown of Charlottesville, Virginia and managed to raise $1.5-million for local charities.  DMB donated 100% of net proceeds from the show — including tickets, merchandise, VIP packages and sponsorship fees — through their Bama Works Fund.  What's more, even if you couldn't make the show, you'll still get to see the band in action. The concert was filmed for "State Farm Neighborhood Sessions," an ongoing series about artists giving back to their communities. The show is set to air on Turner later this year. We'll let you know when a premiere date is announced.
As of late, Gene Simmons seems to be more famous for his comments than his music. The KISS rocker is now in hot water for calling Prince's death "pathetic." "Bowie was the most tragic of all because it was real sickness," Simmons tells Newsweek. "All the other ones were a choice. [Prince's] drugs killed him. What do you think, he died from a cold?" Simmons does compliment the Purple One as an artist, saying he was "heads, hands and feet above all the rest of them," including Michael Jackson. It's all that wasted talent that seems to tick Simmons off. "How pathetic that he killed himself," the rocker explains. "Don't kid yourself, that's what he did. Slowly, I'll grant you… but that's what drugs and alcohol is: a slow death." One person whose not on board with Simmons' controversial tribute? His Kiss bandmate, Paul Stanley. "Embarrassed by cold clueless statements re Prince's death," Stanley tweeted. "Without all the facts better to say nothing. My apologies."
And apparently Paul wasn't the only one who disagreed with Gene, because Gene later apologized, after getting flack "from my family for my big mouth again." "I apologize — I have a long history of getting very angry at what drugs do to the families/friends of the addicts," he tweeted. "I get angry at drug users because of my experience being around them coming up in the rock scene."
You can't turn back time. But it looks like the publisher of a Massachusetts newspaper is at least trying. Ted Grant of the Daily Item in Lynn is asking the Rolling Stones to return to town _ 50 years after the band performed. The group had to cut the show short because of a thunderstorm which sent fans on a rampage. Grant says he'd like Mick Jagger and the crew to do a make-good for the June 24th, 1966 show. Grant says he'll even pick up the band from the airport _ and even let them stay at his house.
Jon Bon Jovi says he may not be able to cure disease or do other important stuff like that. But he says he doesn't mind using his musical talent to help people. The rock star is teaming up with local charities to try to fight hunger and poverty in Toms River, New Jersey _ a shore town that was devastated by Superstorm Sandy. The musician was on hand for the opening of a centre in Toms River to help people get good, nutritious food; health care and job training.
Ozzy Osbourne and his wife are living in Splitsville. On her show "The Talk," Sharon Osbourne said she and her hubby of 33 years are not living together. As for their future, she didn't say whether they would divorce of reconcile. Osbourne says she feels this is "getting to the last chapter of this book" — but isn't sure what she will ultimately do about her marriage.
British prosecutors are mulling over whether to pursue criminal charges against Cliff Richard. The singer has been under a cloud over alleged sex abuse dating back several decades. Police in South Yorkshire have turned over their case file to prosecutors _ who say they will "carefully consider" the evidence. Richard is 75 and denies any wrongdoing. His country home has been raided twice in recent years. He was also questioned by detectives in 2014 but wasn't arrested or charged.
While authorities continue their investigation into Prince's death, some lawmakers in Minnesota are taking steps that could help protect his image from being exploited. A committee of the Minnesota House is debating a measure that would extend the right of celebrities to control commercial use of their names, likenesses, images, voices and signatures — even after death. Other states already have similar laws.