In a story from Rolling Stone…….Donald Trump may be the presumptive Republican nominee for President, but that doesn't mean the Rolling Stones have changed their mind about him using their music. After winning the Indiana primary Tuesday night, Trump walked out on stage to the Stones' "Start Me Up" and they aren't at all happy about it.   "The Rolling Stones have never given permission to the Trump campaign to use their songs," a rep for the band tells Billboard. "[The Rolling Stones] have requested that they cease all use immediately."   This isn't the first time Trump has used a Stones song during his campaign. At previous events he's played tunes like "You Can't Always Get What You Want" and "Brown Sugar."
It looks like the Zappa family drama might not be all it seems – or maybe it's worse than it seems. as you might recall, we told you Dweezil claims his father's second wife won't let him tour with the name Zappa Plays Zappa any longer.
The second of Frank Zappa's kids says that it was his late mother, Gail, who "began creating the obstacles" for him and charging an "exorbitant fee" for using the Zappa name. Now Dweezil's brother Ahmet, who helps run the Zappa Family Trust, has written a lengthy open letter in an attempt to get his side of the story out there.
He writes that ideally, he wouldn't want to have this discussion in public because now the Zappa family looks like "the spoiled brats arguing in public about who deserves what," but it's the only way he can think of. According to Ahmet, Dweezil was never told he had to stop playing under the Zappa Plays Zappa title. If he wanted to keep playing with that name, he would just have to pay a dollar a year fee.
Ahmet goes on to explain that the fees go toward the Zappa Family Trust, which releases Frank's music and works to continue his legacy. "You're a f**king guitar god and in my opinion one of the best guitar players in the world," Ahmet writes. "You do an amazing job playing our father's music with total integrity. Your tours help keep Frank's name alive, just like the work Gail and I have done through the ZFT"
He ends his post saying that if Dweezil wants to talk, and not through a lawyer, that he hopes his brother gives him a call. Dweezil responded via Twitter with a post about intellectual property. And Ahmet debated with fans. As for their sister Moon Unit, she's also unhappy with Ahmet's behavior – and is squarely in Dweezil's corner.
In another story from Rolling Stone.…….Ron Howard has been working on a Beatles documentary for years and now we'll get to see it on the big screen and the computer screen. After a theatrical run, "The Beatles: Eight Days a Week" will launch Hulu Documentary Films, the streaming service's newest division.  The doc focuses on the early years of the Fab Fours, between 1962 and 1966, and includes rare and unseen footage. "Eight Days a Week" is very much approved by the band, having been produced with the cooperation of Paul McCartney, Ringo Starr, Yoko Ono Lennon and Olivia Harrison.  The doc is set to hit theaters and Hulu this fall.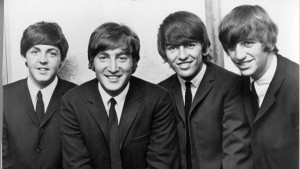 Tidal has Jay Z, Beyonce, and Jack White. Apple Music has Trent Reznor. Apple Insider reports the Nine Inch Nails frontman is going to be involved with helping overhaul the streaming service as it nears it's one-year anniversary.  In just six months, Apple Music got more than 10-million subscribers, but that's nowhere near the amount of people who have Apple products. Closing that gap and working to make Apple competitive with Spotify are two of the goals of this overhaul.  Apple is expected to launch a massive ad campaign for the service, but details, along with other business plans, will be announced at the company's annual Worldwide Developers Conference on June 13th.