We found out yesterday that Paul McCartney, Bob Dylan, the Rolling Stones, Neil Young, Roger Waters and The Who will play at a music festival from October 7th through the 9th at Coachella's spot in Indio, California.  Tickets for what's being billed as a one time only event go on sale May 9th. General admission for the weekend cost $399 and single day passes will run you $199. For more info go to Desert Trip's official website and check out the trailer  HERE.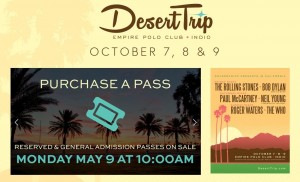 Steven Tyler will be spending the summer on the road, but he won't be doing it with Aerosmith. Instead, the singer will embark on his first solo tour, backed by Nashville-based band Loving Mary, that will feature reworked versions of Aerosmith songs, as well as material from his upcoming country album. Tyler will also tell the stories behind the songs.  Earlier this week in New York, Tyler hosted a benefit at Lincoln Center's David Geffen Hall for his charity Janie's Fund, and gave those in the audience a taste of what his upcoming tour will be like.  Tyler's "Out on a Limb" tour will kick off July 2nd at the Venetian Theater in Las Vegas, and wrap September 13th at Toronto's Sony Centre for the Performing Arts. Tickets for all shows go on sale May 14th.  Check out the first dates below, and click here for the complete list.
July 2 Las Vegas, NV, Venetian Theatre
July 5 Los Angeles, CA, Dolby Theatre
July 8 Seattle, WA, Marion Oliver McCaw Hall
July 10 Vancouver, Canada, Orpheum Theatre
July 14 San Francisco, CA, The Masonic
July 20 Phoenix, AZ, Comerica Theatre
July 23 Denver, CO, Ellie Caulkins Opera House
July 26 Austin, TX, Bass Concert Hall
July 29 Houston, TX, Brown Theater at Wortham Center
The Who are headed back to Europe this summer. The Rock and Roll Hall of Famers will kick off a UK and European leg of their "Back To The Who" tour on August 29th in Glasgow, Scotland.  The trek, their first time performing in their native country since 2015's British Summer Time and Glastonbury festivals, will wrap September 19th in Milan, Italy. Tickets go on sale Friday (tomorrow in Germany).  Meanwhile, The Who are currently in the midst of a North American tour, making up for that were rescheduled after Roger Daltrey came down with viral meningitis.  They play Winnipeg tonight. Here's a look at the Who UK and European dates:
August 29 Glasgow SSE Hydro, UK
August 31 Manchester Arena, UK
September 3 Sheffield Arena, UK
September 7 Liverpool Echo Arena, UK
September 9 Oberhausen Koenig Pilsener Arena, Germany
September 12 Stuttgart Schyleyer-Halle, Germany
September 14 Vienna Wiener Stadhalle, Austria
September 17 Bologna Unipol Arena, Italy
September 19 Milan Mediolanum Forum, Italy
A new Van Morrison box set is headed to stores next month. "..It's Too Late To Stop Now…Volumes II, III, IV & DVD" is a three-CD/one-DVD collection of previously unreleased live concert recordings from Morrison's 1973 tour with the Caledonia Soul Orchestra.  The set, to be released June 10th, features music recorded at three different venues, the Troubadour in Los Angeles, the Santa Monica Civic Center, and The Rainbow Theatre in London, while the DVD is from Morrison's performance at the Rainbow Theatre.  In addition, Morrison's original "…It's Too Late to Stop Now" has been remastered and will be available as a double CD or double vinyl, the first vinyl pressing of the album in more than 25 years.  Click on the Pic for the story from Rolling Stone.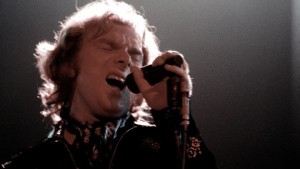 The latest planned tribute to Prince is a musical one _ being organized by a Minnesota radio station. The Minnesota Public Radio station is inviting stations around the country to play Prince's hit "Nothing Compares 2 U" this afternoon at 5:07 p-m, Central time. Why? "Nothing Compares 2 U" contains the lyric "7 hours and 13 days" _ and 5:07 p-m would mark that length of time since Prince died. So far, stations in Seattle, Philadelphia, New York and Austin, Texas are among those that have signed on for the tribute.
Larry Graham says there's no telling what might be left in Prince's musical vaults. Graham says over the years, he and other band members had recorded a lot more material with Prince than ever made it onto a single or album. Trouble is, Graham says, he has no idea what Prince did with those recordings. He says he doesn't know what stuff Prince left and what he got rid of. Graham added that while people knew Prince as a musician, in his later life he got his biggest joy from sharing the Bible with others as one of Jehovah's Witnesses.
Here's a great performance of Prince & Cheryl Crow.  And a tribute to Prince from DuDance.
Look for "The Blues Brothers" to show up on your T-V, not as a movie or comedy sketch _ but as a prime-time animated comedy series. The project will be co-created by Dan Aykroyd who did the original "Saturday Night Live" sketch with John Belushi. Judy Belushi, John's widow, will be involved with the project. The series will be based on the musical act formed in 1978 for S-N-L. The collaboration led to a hit album, live shows and a 1980 movie. The project is to be shopped to T-V outlets in May.