It's confirmed.  McCartney, Stones, Dylan, Neil Young, Roger Waters and The Who all performing at one show.  Click the pic for more.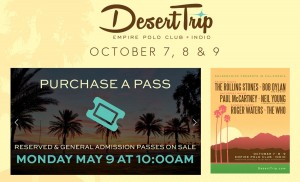 During their show Sunday night, the Seattle rockers played a 35-song set that lasted nearly three hours, and featured one never-before-heard cover.  After frontman Eddie Vedder joked about a friend who said that Eddie was one of his favorite singers, but "you're not as good as this other guy," the band launched into a cover of The Doobie Brothers classic, "Takin' it to the Streets," the first time they've ever played the song.  Click the pic.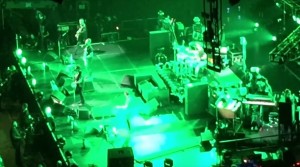 Even without the rest of U2, The Edge has made it into the record books. In case you missed it, the guitarist became the first rock musician ever to play the Sistine Chapel. The Edge, whose real name is Dave Evans, played an unplugged set during the Cellular Horizons conference on regenerative medicine held inside Vatican City.  Instead of his usual bandmates, he was backed by a group of Irish teenagers. He played the U2 tracks "Yahweh," "Ordinary Love," and "Walk On," along with a cover of Leonard Cohen's "If It Be Your Will," but even he admitted he's not used to being the frontman.  "When I was asked to perform in the Sistine Chapel I didn't know what to say, because usually there's 'this other guy' who sings," he joked. "So it took me at least, well, 30 seconds to agree to it." Check out fan shot video.
We're getting new Red Hot Chili Peppers music! The band announced via Twitter that they're dropping their single, "Dark Necessities," on Thursday.  This mark's the Chili Peppers' first new music in five years. Back in January, frontman Anthony Kiedis said they were in "the home stretch" of finishing a new album, which will be the follow up to 2011 release, "I'm With You."
Billy Corgan doesn't necessarily give off a warm and friendly vibe, but one brave concertgoer at Smashing Pumpkin's Memphis show got up on stage uninvited anyway.  As potentially expected, the frontman did not take kindly to that, telling the man "Get the f**k off my stage before I punch you in the f**king face." The unidentified man complied.