Cheap Tricks Tom Peterson is working on a cool project. He has spent a lifetime playing music, and now he's aiming for a new audience — starting with his autistic son. For more information on The Petersson's click on Rock Your Speech   For the video Click Here.
We told you Bruce Springsteen dedicated his Saturday gig in Brooklyn to Prince, and that he covered "Purple Rain" during the show, and now we can all hear it. The Boss is giving out his cover as a free download.  You can download the track for free here and pre-order the whole show here.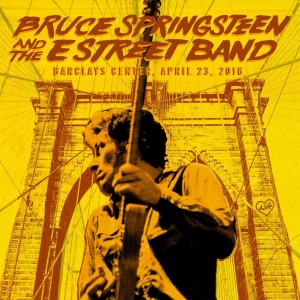 Prince owns the number one and number two spots on the Billboard 200 albums chart. "The Very Best of Prince" is number one, followed by the "Purple Rain" soundtrack. What's significant is that Prince died on Thursday morning, the last day that album sales are tracked for the week. That means those two albums outsold every other album last week in less than a day.
Prince wasn't "drugged up." That's a quote from his longtime lawyer L. Londell McMillan. McMillan is disputing suggestions that Prince had a drug problem. He tells the A-P that Prince lived a clean and healthy lifestyle, and his death is a complete shock. Prince was found dead Thursday. Authorities say it could take weeks to determine the cause of death.
Kid Rock's assistant has been killed in an A-T-V crash. Michael Sacha was found lying face down on the side of a driveway at Rock's suburban Nashville house early Monday.The accident happened when Sacha drove two people down the driveway to meet an Uber driver at midnight. Sacha crashed while riding the A-T-V back to the house. The death has been classified as accidental.
Guns N' Roses must be having a good time on tour. The band has tacked on four more dates to their current "Not In This Lifetime Tour."  Fans in Los Angeles will now get a chance to see the reunited GNR and second shows have been added to Chicago, Foxboro, Massachusetts, and East Rutherford, New Jersey.   The new dates are scattered in July and August, which means there's no conflict for Axl Rose and his AC/DC shows, which are scheduled for May and June.  Fan club tickets for the new shows are available now, but for general on sale dates, check out GNR's website. 
Check out Axl singing Whole Lotta Rosie with Angus Young on guitar.
Nikki Sixx and his band Sixx: A.M. are pushing YouTube to pay artists what they're worth. The band write on their Facebook page YouTube pays artists and labels a sixth of what Apple and Spotify pay. They say YouTube's parent company, Google, has the second-highest market capitalization in the world and had revenues last year of 75-billion-dollars. Sixx: A.M. say it's not about them but current and future generations of musicians. They say Google's first motto was "Don't Be Evil," and it's time to live up to that. A Google representative did not return requests for comment.
It looks like some musicians have moved to Twin Peaks. A full cast list, with all 217 people set to appear on the "Twin Peaks" revival, has been released and according to that, Eddie Vedder, Trent Reznor, Sharon Van Etten, and Sky Ferreira will all appear on the upcoming Showtime series.  At this point it's unclear what anyone's roles are, but the artists join returning cast including Kyle MacLachlan, David Duchovny and Sherilyn Fenn, along with new actors joining the bunch like Laura Dern, Michael Cera and Amanda Seyfried. "Twin Peaks" is set to premiere on Showtime next year. Check out the complete cast list here.
Pink Floyd's David Gilmour is the latest artist to honor Prince in concert. During his Teenage Cancer Trust concert at London's Royal Albert Hall, Gilmour mashed up the Floyd classic "Comfortably Numb" with Prince's classic, "Purple Rain."  As Gilmour broke into "Comfortably Numb's" classic guitar solo he segued into the Prince tune, all the while being bathed in a purple light in honor of the late music icon. Check out video
As far as Michael Stipe is concerned, people should not be able to openly carry guns on college campuses. In case you missed it, the former R.E.M. frontman, whose a University of Georgia alum, penned an essay for "USA Today" asking for Georgia Governor Nathan Deal to drop the state's House Bill 859, known as the "campus carry" law. If passed, licensed gun owners over the age of 21 would be able to be armed on campuses in the state. "I worry about what it means when loaded guns are allowed at a tailgate where alcohol is being served," he writes. "I'm concerned for survivors of sexual assault, who may soon have to face an armed assailant at the time of the crime and again at their disciplinary hearing." The rocker adds that he's "worried" about what will happen when classroom debates get heated, adding he worries about "what will happen to that open and honest conversation when the participants know that the people around them could have loaded guns in their backpacks." Plus, as Stipe points out, 78% of Georgia residents do not want the law passed. We'll keep you posted on what happens with the bill.