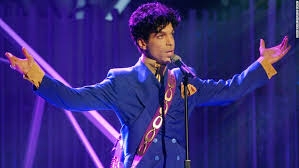 Click on the pic for Prince on Arsenio Hall 2014
An autopsy is scheduled for later today for pop superstar Prince, who died yesterday in his studio compound in suburban Minneapolis.   The 57-year-old had said earlier this month that he had the flu, but officials haven't released a cause of death. Fans around the world are mourning the ground-breaking musician, holding all-night dance parties in his honour or lighting buildings, bridges and landmarks in his signature purple.
Prince Rogers Nelson stood just five-feet, two-inches tall, but was a giant of the music industry.    When he was inducted into the Rock and Roll of Fame in 2004, he was hailed as a musical and social trailblazer who forged a synthesis of black funk and white rock that served as a blueprint for cutting-edge music in the 80's.  He once lived in Toronto, and performed one of his final shows in the city late last month.
Here he is helping out (stealing the show) at the George Harrison tribute.
Less than two hours after news broke of Prince's death, three of his songs were in the top 10 of iTunes. "Purple Rain" hit number 7, "Little Red Corvette" was number 9 and "When Doves Cry" was number 10. "The Very Best of Prince" was the number-one iTunes album. The ironic part is that Prince was legendary for pulling his music off the internet. Most of his videos are not online, at least not officially. Prince's page on Spotify states, "Prince's publisher has asked all streaming services to remove his catalogue." A YouTube video of a toddler dancing to the Prince song "Let's Go Crazy" prompted a copyright fight in 2007.
Prince halftime at Superbowl XLI
One of the most famous aspects of Prince is that for a while he had no name. Prince changed his name to an unpronounceable symbol in 1993 to protest what he thought were unfavourable terms with his contract with Warner Records. He was referred to as "The Artist Formerly Known As Prince," or "TAFKAP" for some. Prince said in 2000 he did it because he was angry and in "warrior mode." He went back to using his name in 2000 because he said he didn't "feel like right-hooking anybody" anymore. Prince eventually returned to deals with big labels, including Warner.
Fans tried to gather in Hollywood to honor Prince, but discovered something instead-As fans gather to mourn the passing of music icon Prince, makeshift memorials have been popping up.  One location though is noticeably empty: the Hollywood Walk of Fame. That's because the entertainer doesn't have a star on it. How can that be? The answer is simple. No one nominated him, not even he did.  Here's how you get a star: it begins with a nomination, which can come from "anyone from a publicist to a wealthy fan." Then, the nominee must agree in writing that they want a star and will be present for the unveiling ceremony. Once this is done, there is a $30,000 price tag to claim the honor. The money goes for the star and its upkeep.  Now it's up to Prince's family to make the star happen. They have to wait five years then can submit the paperwork for approval.  Fans jumped all over social media and expressed their shock at the revelation. The thing is, Prince could've nominated himself but chose not to.
What will happen with Prince's autobiography? Prince was a notoriously private person but he was preparing to tell his life story. Prince had announced during a concert in New York last month he was writing a memoir called "The Beautiful Ones" for release in the fall of 2017. Publisher Spiegel and Grau has not said what the status of the book is.
Prince on Arsenio Hall Purple Rain(not the best quality video)
https://www.youtube.com/watch?v=F8BMm6Jn6oU
Prince was not only an icon to fans — he was also a big deal to other celebrities. And there was no shortage of tributes by fellow stars as news of his death spread. Among the reactions were from U-S President Barack Obama, who said the "world has lost a creative icon." Mick Jagger said Prince's "talent was limitless." Actor Russell Crowe says Prince was "the greatest live act" he ever saw. Spike Lee says he will remember Prince's sense of humour as much as he did his music. Lee says Prince "was a funny cat."
Prince was all over the tube last night, from the all-news channels to the music channels. VH1 and MTV played Prince's movie "Purple Rain." MTV also got back to its music video roots, by shelving its usual programming for Prince videos. Stephen Colberttold his "Late Show" audience that he's been a fan of Prince's since high school. Colbert recalled he had to wear headphones so the adults couldn't hear the lyrics. Colbert paid tribute to Prince by changing the colour of the set on his CBS show to purple.
He was, first and foremost, a musician. But Prince had an effect on Hollywood, too. He won an Oscar, starred in a movie that he wrote and directed — and his music was used in scores of T-V shows and movies. Prince won his Oscar for the music featured in the 1984 hit "Purple Rain." He composed the soundtrack for the 1989 movie "Batman," starring Michael Keaton — including the song "Batdance," which went to number one. Other Prince songs appeared in movies including "Krush Groove," "Striptease" and "Get Rich or Die Tryin."
Some facts from Mental Floss about Prince you may not know;
-He was a Jehovah's witness.
-He wrote "Manic Monday" for the Bangles, "I Feel For You" for Chaka Khan, and "Nothing Compares 2 U" for Sinéad O'Connor.
-Remember when he had a symbol for a name?…That symbol had a name, "Love Symbol #2."
-During the week of July 27, 1984, Prince's film Purple Rain hit number one at the box office. That same week, the film's soundtrack was the best-selling album and "When Doves Cry" was holding the top spot for singles.
Prince coverage live streaming
https://www.youtube.com/watch?v=g7h4NcuoOzY