With the latest Rock and Roll Hall of Fame class inducted, albeit somewhat contentiously, "Rolling Stone" asked their readers who they would like to see make it in next year, and the answers may surprise you.
Coming in at number one is Pearl Jam, who'll be eligible for the first time in 2017, with most folks thinking it's a safe bet the Seattle rockers will get in on the first try.
Next up is Little Feat, who've been eligible for the past 20 years but have never got on the ballot, with Electric Light Orchestra, Janet Jackson and Yes rounding out the Top Five.
As for the rest of the Top Ten, they include The Moody Blues, The Cure, Jethro Tull, Warren Zevon and The Cars.
Queen fans, get out your wallets. A notebook filled with lyrics handwritten by Freddie Mercury himself is hitting the auction block. The iconic frontman used the book during the last three years of his life, and it features nearly 20 songs written for the band's albums "The Miracle" and "Innuendo."
Tracks like "Too Much Love Will Kill You" and the "The Show Must Go On," the final song on Mercury's last album with Queen, are all included within the notebook's pages.
"It is a poignant record of that period, but it also struck me that it is a testament to the creative energy in the band," a rep for auction house U.K. Bonhams explains. "Despite his illness and increasing frailty the ideas were still there. His performance on that last album was remarkable considering how frail he was, his vocal powers on some of the tracks are just extraordinary … he did have this incredible drive."
The notebook goes up as part of a collection of rock memorabilia on June 29th and is expected to bring in between $70,000 and $100,000.
When it comes to writing songs, Steven Tyler doesn't consider himself someone who's good at just writing melodies or just writing lyrics.
Steven, whose currently working on his debut country album, says he's "a little bit of both," since throughout his career with Aerosmith he's written both melodies and lyrics. He notes, "It's fun for me to either start a story or finish a story."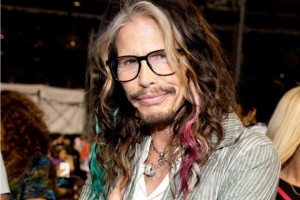 Tom Hamilton is the latest Aerosmith member to occupy his time outside of the band. The bassist is set to play with Thin Lizzy during some of their upcoming reunion shows.
"I'm really psyched to be playing these shows with Thin Lizzy during my downtime with Aerosmith this summer," Hamilton says. " It'll be great to rock out to their classic songs onstage."  Thin Lizzy is also getting some all star help in the drum department. Originally, Motorhead's Mikkey Dee was going to be behind the kit, but he had to pull out. Now, Judas Priest drummer Scott Travis will play for most of the upcoming reunion shows. For the one gig he can't make in Sweden, Europe drummer Ian Haugland is stepping in.
Check out the shows Hamilton will be playing bass at below and the full list of Thin Lizzy's dates, as well as ticket info, HERE.
Joe Walsh is pulling out of a Cleveland summer concert he thought would be a nonpartisan event for veterans' families. Walsh says the event is actually a launch for the Republican National Convention. Walsh says in an emailed statement he's "very concerned about the rampant fear-mongering and bullying coming from the current Republican campaigns  and  "cannot in good conscience" endorse the Republican party in any way." The concert is scheduled for July 18th. The Republican National Convention is scheduled for July 18th to 21st at Cleveland's Quicken Loans Arena. Walsh says he's sorry for any fans or veterans and their families he might disappoint. He promises to look at doing a veterans-related benefit concert later this year.
Z-Z Top bassist Dusty Hill says his doctors tell him his fractured shoulder is usually associated with sports injuries. He says he's not sure playing bass qualifies as that but they're doing their best to get Hill back in the game. Z-Z Top are postponing their shows through May 7th because of Hill's injury. Z-Z Top manager Carl Stubner says Hill tripped on a poorly-lit step at the Lone Star Events Center in Lubbock, Texas, last week, just as Z-Z Top were taking the stage.