While our 'Wing It' contest winner Alicia Keen and The Drive's Darren Coogan get to enjoy McCartney in Vancouver, the rest of us will have to settle for listening to Darren doing his show live from Vancouver ahead of tonight's concert and fan videos.  Some good news.  Paul McCartney has tacked on more dates to his current "One on One Tour."  Originally, the run was supposed to end on May 5th in Minneapolis, but now he's added eight more shows. The new set of gigs begin on July 8th at Summerfest in Milwaukee and wrap up on August 17th in Cleveland.  In case you needed another reason to make it out to McCartney's ever growing tour, the rocker seems to have no shortage of famous friends to bring out on stage with him. At his Seattle gig on Sunday, Nirvana's Krist Novoselic joined Macca and his band for a cover of The Beatles track "Helter Skelter." Check out the video one fan shot.
We'll let you know if McCartney extends "One on One" into the fall. Check out the new dates below and get ticket info here.
July 8th – Milwaukee, WI (at SummerFest)
July 10th – Cincinnati, OH
July 12th – Philadelphia, PA
July 19th – Hershey, PA
July 21st – Hamilton, ON
August 7th – East Rutherford, NJ
August 13th – St. Louis, MO
August 17th – Cleveland, OH
Pearl Jam and Boston are the latest artists to cancel a concert in North Carolina. Pearl Jam was due to play Raleigh's PNC Arena tomorrow, but decided not to go on with the show because of the state's HB2 legislation, a.k. a. "bathroom" law, which they call "a despicable piece of legislation that encourages discrimination against an entire group of American citizens."  "We want America to be a place where no one can be turned away from a business because of who they love or fired from their job for who they are," Pearl Jam said in a statement. "It is for this reason that we must take a stand against prejudice, along with other artists and businesses, and join those in North Carolina who are working to oppose HB2 and repair what is currently unacceptable."  Pearl Jam says they'll be providing funds to local groups to help them fight against the laws. They add, "In the meantime we will be watching with hope and waiting in line for a time when we can return.
Perhaps even celebrate." Meanwhile, Boston has canceled concerts in Charlotte, Greensboro, and Raleigh, that were scheduled for the beginning of May. "Hopefully the sacrifices we are all making here will inspire people to do the right thing in the future," the wrote on their Facebook page.  "We look forward to the day that the state government of North Carolina will come to its senses and treat ALL individuals with equal freedom in their pursuit of happiness here in the United States."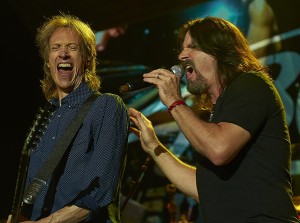 Alice Cooper has announced his latest tour will hit Vancouver's Queen Elizabeth Theatre October 19th.  Tickets go on sale this Friday morning at 10.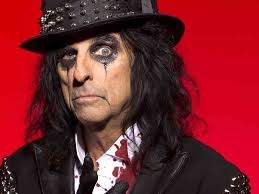 Axl Rose is officially temporary frontman for AC/DC and in case you were wondering, Alice Cooper is a big fan of the idea.  "I just think that's such a unique combination," Cooper tells Rolling Stone. "Whoever has tickets to that show has got the golden ticket, because who doesn't want to see that?"  The Hollywood Vampires rocker goes on to say at first, he thought it was an April Fool's Day joke, but the more he thought about it, the more he realized Rose's voice is "absolutely perfect" as a fill in for AC/DC's original lead singer, Brian Johnson.  AC/DC hasn't announced their rescheduled dates with Axl yet, but we'll keep you posted.
There's no doubt the hot topic on social media this weekend was the Coachella Festival, which generated more than 3.8 million tweets.  The most tweeted about moment of the weekend was Halsey's surprise duet with Panic! At the Disco's Brendon Urie, followed by Snoop Dogg, who turned up during Ice Cube's set, and then Kanye West's shortened appearance during A$AP Rocky's set.  Guns N' Roses' Coachella debut, as well as their guest appearance by AC/DC's Angus Young, was the fourth-most tweeted about Coachella moment, followed by A$AP Rocky and Kesha's appearance with Zedd.
Aerosmith's Joe Perry is currently working on a new solo record and he's lined up several guests to appear on the album. In an interview with "Rolling Stone," Joe shares that Iggy Pop, New York Dolls singer David Johansen and UK singer Terry Reid will all be featured on the album, some of them on several songs, with Zak Starkey playing drums on a tune.  But Joe isn't quite finished, and is still hoping to get some more famous friends to join the record. "That's one of the main reasons we're out here in California," he says. "Boston's a great city and there are some really talented cats, but out here there is always somebody passing through or they live out here. It's just been a wider spread of friends and neighbors I can ask if they want to come in and have a go."
Peter Mensch – aka Metallica's manager – is not going to start a YouTube channel anytime soon. He thinks that the website's business model is impossible to sustain. "YouTube, they're the devil," Mensch, who also manages Muse and Red Hot Chili Peppers, says. "If someone doesn't do something about YouTube, we're screwed. It's over. Someone turn off the lights. It's hard to make people pay for what they've been getting for free. That's consumer behavior 101."  YouTube has responded, saying artists that sign up directly with their site are seeing great returns.   "The people who don't have visibility are generally the ones who tend to be less happy," the company's CEO Robert Kynci explains. "If you don't have full visibility, you're somehow more susceptible to negative thinking." He claims that so far, YouTube has paid $3-billion to record companies, and that number is growing.
The Traveling Wilburys was the supergroup to end all supergroups. Made up of Bob Dylan, George Harrison, Jeff Lynne, Roy Orbison and Tom Petty, the band formed in 1988 and put out two albums, 1988's "Traveling Wilburys Vol. 1" and 1990's "Traveling Wilburys Vol. 3," which was recorded after Orbison's death.  On June 3rd, for the first time ever, all that music is going to be available to stream.  But wait, there's more! The band is also getting the box set treatment…again. "The Traveling Wilburys Collection" was originally released in 2007 and is getting relaunched in celebration of the digital deal. The collection includes both albums, bonus tracks and a DVD and will also hit stores on June 3rd.
When H-B-O airs the Rock and Roll Hall of Fame ceremony on April 30th, Steve Miller thinks he'll probably be a part of it. Miller says he's still negotiating performance rights with the Rock Hall. Miller made headlines after his induction when he blasted the hall's executives for how they ran things. Miller is calling for the hall to get rid of the founders and nominating committee and start over.
Tom Petty makes a guest appearance in the online comedy series "Dryvrs." Comedian Jack Dishel created the series based on his experiences with Uber and Lyft. The second episode, "Bob's Direction Home," features Rosanna Arquette as a driver who drops acid and thinks Dishel is Bob Dylan. George Harrison's son, Dhani (DAN'-ee), makes a cameo. You can find the episode now on YouTube.
A T-V series based on Bob Dylan's song catalogue is in the early stages of development. Amazon Studios and Lionsgate T-V are working on a drama called "Time Out Of Mind," which is also the title of a 1997 Dylan album. Australian filmmaker Josh Wakely got permission from Dylan to use his songs. Details on the series, including an air date, have not been worked out.