Axl Rose will step in for Brian Johnson on vocals to help AC/DC finish out their tour. Johnson's doctors ordered him to stop touring immediately or risk total hearing loss. AC/DC say they respect Johnson's decision and they are dedicated to honouring their concert commitments. Guns N' Roses will play Mexico City this week and Coachella this weekend. Rose will handle vocals for AC/DC's European tour beginning with Lisbon, Portugal, on May 7th and running through Aarhus, Denmark, on June 12th. Guns N' Roses ' "Not In This Lifetime Tour" begins June 23rd in Detroit, and includes Centurylink Field in Seattle , Washington Friday , August 12th . Click the pic for more.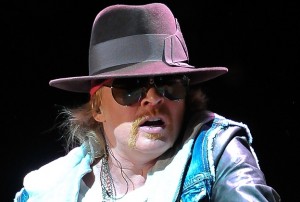 _ Kiss singer-guitarist Paul Stanley and former guitarist Ace Frehley each are dealing with hospital stays. Stanley writes on his Facebook page he tore his bicep tendon and had surgery to reattach it with a screw and stitches. He says he will be "ready to rock" before the Kiss tour begins. Kiss was supposed to headline the Race to Erase M-S fundraiser in Beverly Hills, California, on Friday but had to play as a three-piece. Frehley's website reports he was admitted to a hospital for exhaustion and dehydration after Friday's show in Wilkes-Barre, Pennsylvania. Frehley had called off a show in New Hope, Pennsylvania, a week ago, saying a band member was sick.
ZZ Top were forced to call off their weekend concerts because bassist Dusty Hill dislocated his shoulder. They don't say what happened, only that Hill was injured while they were at Lone Star Events Center Amphitheatre in Lubbock, Texas, on Thursday. ZZ Top's next show is scheduled for Friday in Biloxi, Mississippi.
Duran Duran joins the list of musicians speaking out over North Carolina's new law that limits anti-discrimination protections for the L-G-B-T community. Frontman Simon LeBon read a statement at Saturday's show in Charlotte supporting the L-G-B-T community. He also urged fans to sign a petition against the law that will be presented to the state general assembly. Bruce Springsteen and Ringo Starr canceled shows in North Carolina. Cyndi Lauper is turning her show into a benefit to overturn the law.
David Gilmour finds a certain pleasure in knowing he'll be playing a concert in an arena where the last time there was an audience, gladiators were going up against lions. Gilmour will play the ancient amphitheatre in Pompeii Italy, on July 7th and 8th. He's played that arena before. Pink Floyd shot their "Live at Pompeii" concert film there in 1971, but there was no audience. Gilmour says no concerts have been played there since Pink Floyd did it. He says with the July shows, he wants the setting to cement the moment in the audience's memory.