Music fans, and lots of celebrities, will be headed to the desert in Indio, California today for the annual Coachella Music & Arts Festival, and they're bound to hear some great sets.  Of course, one of the highlights of this year's fest is bound to be tomorrow night's return of a reunited Guns N' Roses. The band hasn't even started their full on tour but by the end of Coachella and their Mexican gigs next weekend, almost a half million fans will have seen the band already.  GNR won't be the only must-see moment the weekend. Headlining tonight's lineup is a reunited LCD Soundsystem, with Sunday's lineup wrapping up with Calvin Harris. (All three will return next weekend as well).  In addition to the headliners, this year's fest includes Ice Cube, Disclosure, Elli Goulding, CHRVCHES, Sia, Major Lazer, The 1975, Of Monsters and Men, Zedd, Halsey, Run the Jewels, Gary Clark, Jr., Sufjan Stevens, A$AP Rocky, Silversun Pickups, James Bay and Chris Stapleton.  For the complete schedule click here.  And there's good news for those who can't make it to the desert this weekend. As we preveiously told you, YouTube will be live streaming the whole weekend. But with the time difference and Guns N' Roses' reputation for being late, East Coasters are going to need a lot of caffeine to stay awake if they want to catch Axl Rose and the gang.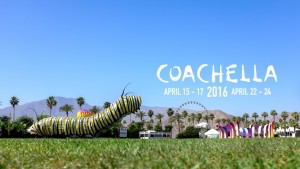 In a story from Variety….Bob Dylan is going to be the inspiration behind a new Amazon TV series. "Time Out of Mind," from Australian writer/director Josh Wakely, will feature characters and themes from Dylan's songs.  So far no specific plot details have been revealed, although "Variety" reports it will center around two characters or story threads that wind up connecting. Wakely has apparently been able to secure the rights to Dylan's vast song catalog for use in the series.  Wakely is also behind the Netflix series "Beat Bugs," which tells children's stories inspired by Beatles tunes, which have been covered by artists like Eddie Vedder and Sia.
From Rolling Stone….Paul McCartney seems to be releasing new music and touring nonstop lately, but he kicked off his latest run, the "One On One Tour," by reaching back in his catalog and playing some tracks he doesn't normally play. Case in point? He opened the gig with "Hard Day's Night," which he hasn't played since August 31st, 1965…51 years ago. He broke out a few more rarities during the Fresno, California show on Wednesday. It had been even longer since Macca played the Beatles song "Love Me Do," which he pulled out after 53 years. He also played "In Spite of All the Danger" for the first time since 2005, "The Fool on the Hill" for the first time since 2003, and "You Won't See Me" which he hasn't played since 2004.  As of now, "One On One" wraps up on August 13th in St. Louis but new dates are being added. Check out McCartney's website for the most updated schedule.
Flea has been a Los Angeles Lakers fan for years and was asked to perform the National Anthem at Kobe Bryant's final game. The reaction was very divided, to say the least. One Twitter user said Francis Scott Key was "clawing at the lid of his casket" while another said his father was no doubt throwing a shoe at the time. One viewer wonders if the person who booked the Red Hot Chili Peppers bassist was fired yet. At least one viewer, however, said he appreciated Flea adding a little funk to the National Anthem. As for the man himself, he told TMZ he "rocked that sh*t." It's all about confidence, right?
Graham Nash has had thousands of photos taken of him and has been a photographer himself for decades. Still, it was a candid shot his girlfriend took that captured his feeling for his new album, "This Path Tonight." The photo shows Nash from behind as he walks through a wooded area in the snow. Nash says it caught him in a reflective mood as he considers the rest of his life. He says he's going through a lot of personal changes and he got those feelings out on the record. "This Path Tonight," with that photo on the cover, is out today.
Ringo Starr and Cyndi Lauper are taking different approaches to protesting North Carolina's new law that blocks anti-discrimination measures for the L-G-B-T community. Starr has called off his June 18th concert in Cary. He says he's sorry to disappoint fans but says "we need to take a stand against this hatred." Cyndi Lauper plans to keep her June 4th date in Raleigh and donate the profits to a group trying to get the law appealed. Lauper says she looks forward to coming to North Carolina and "standing up for equality and fairness."
Jimi Hendrix's hometown is showing him some love. A park honoring the icon is set to open in Seattle this August.  "Featuring an array of new improvements that reflect themes found in his music, Jimi Hendrix Park may include lyrical stepping stones, rain drums, a sculpted butterfly garden and many other features," a foundation set up for the project notes. "These artistic representations serve as a beacon to youth, summoning them to unlock their imagination and encourage them to pursue their dreams."  If you want to help sustain the park, you can buy a t-shirt from the foundation. The official opening is scheduled for August 27th.
Celebrities are just like us…they even get trapped in elevators. Dave Navarro was on his way to an interview when he got stuck in an elevator with "two hot girls," one of which included his publicist, Christina Federowicz.  According to Christina, after the elevator dropped 10 flights and they were stable, "it felt like being in a closet" or "like a modern day panic room."  As for the rocker, he passed the time by taking selfies and posting them to social media, updating fans on his "hell." After more than an hour, Navarro and his hotties were rescued.
It's been 15 years since Ace Frehley left KISS, and now he's putting any bad blood he has toward his bandmates behind him. Well, at least any bad feelings toward Paul Stanley.   Frehley and Stanley recorded their first song together in 18 years for Frehley's covers album "Origins Vol. 1," which hits stores today.  The former bandmates take on Free's "Fire and Water," (No Paper..lol)and according to Stanley, the experience was a good one from beginning to end. "I was happy Ace called me up with this," the guitarist explains. "It's very funny, because on my phone when he called, his name comes up, and it put a smile on my face. Like, I pick up the phone and go, 'Ace Frehley!'"