There's been lots of talk about Aerosmith hanging up their hats, especially after frontman Steven Tyler said it a farewell tour was "probably" going to happen next year. Joe Perry is not so sure about that.  "A farewell tour is something we've talked about doing for years, let's say roughly in the last five years," the guitarist tells Rolling Stone. "It's just something the band's talked about at various times. At this point, the five of us have never sat down and said, 'It's time to do it.' So 'considering' is an appropriate word for that statement. A farewell tour is definitely not confirmed."  For Perry, he's going to concern himself with Aerosmith's upcoming South American tour this fall. After that, he says the band will get together and figure out what their game plan is moving forward.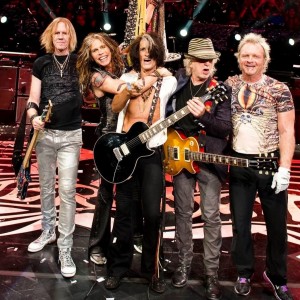 In a story from Rolling Stone…..Ringo Starr is joining Bruce Springsteen and other artists in canceling his North Carolina gig. The former Beatle was scheduled to perform with his All Starr Band on June 18th in Cary but he's called off the show over the House Bill 2, also known as the "Bathroom Bill."  "I'm sorry to disappoint my fans in the area, but we need to take a stand against this hatred. Spread peace and love," Starr explains. "How sad that they feel that this group of people cannot be defended."  He goes on to call on his fans to to fight the "bigotry" and work to get the law overturned. "As Canned Heat sang, 'Let's work together,'" Starr ends his post. "And the Beatles said, 'All you need is love.'"
We may soon see Elton John in a big screen action flick. In case you missed it, reports claim Sir Elton is in talks for a role in Matthew Vaughn's "Kingsman" sequel, "Kingsman: The Golden Circle." Elton will be joining quite a cast in the flick. Already on board are original stars Taron Egerton and Mark Strong, as well as new additions Julianne Moore, Halle Berry and Pedro Pascal. There are also hints that Colin Firth may return.  So far there's no word on whether Elton will be playing a character or himself in the film.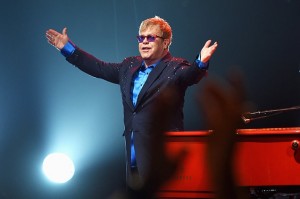 And of course Peter Gabriel and Sting bring their Rock Paper Scissors tour to Edmonton July 24th.  Enter to win tickets, cash and accommodations by listening to 99.3 The Drive.  Click the pic for more.
North Carolina's governor says he loves The Boss, but he's wrong. Governor Pat McCrory says Bruce Springsteen and the E Street Band should not have called off their Greensboro show last weekend because of the new state law that limited gender-specific bathroom use and L-G-B-T protections. McCrory says Springsteen and guitarist Steven Van Zandt have "lost the pulse of the working-class men and women" who "agree with common-sense restroom and bathroom regulations."
Ringo Starr has joined Bruce Springsteen in taking action over a North Carolina law that blocks anti-discrimination laws for the lesbian, gay and transgender community. The former Beatle has cancelled his June 18th concert near Raleigh, North Carolina, in opposition to the passage of the bill. Starr said he was sorry to disappoint fans, but needs to take a stand against what he calls "hatred" and to "spread peace and love."
Def Leppard drummer Rick Allen is relocating. The Los Angeles Times reports Allen has put his 21-hundred-square-foot house on the market for 1.89-million dollars. It has three bedrooms, three bathrooms, lots of wood paneling and high ceilings and a pool. Allen bought it in 2007 for $1.66 million.