In a story from the Daily Mail…U2 frontman Bono is throwing his support behind a plan to provide aid relief to the Middle East. The Irish rock star testified before a U.S. Senate foreign aid subcommittee yesterday, saying the issue is a matter of national security.  Lawmakers including Republican Senator Lindsey Graham have called for efforts to spend billions to address trade, economic development and the refugee crisis in the region.  Some have compared it to the Marshall Plan that provided extensive aid to Europe after World War Two. Bono has been a staunch supporter of international debt relief and anti-poverty initiatives.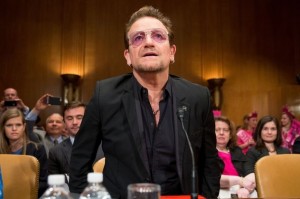 Bono also testified that they should send Sacha Baron Cohen, Chris Rock and Amy Schumer to fight extremists.  The U2 frontman testified yesterday during a Congressional subcommittee featuring diplomats and aid experts calling for the U.S. government to provide more assistance to the Middle East and all the refugees fleeing the war-torn region.  Bono brought up the Marshall Plan, which was created to help rebuild Europe following World War II. According to the rocker, much like then, laughter might be our best bet for stopping terror and rebuilding. "The first people that Adolf Hitler threw out of Germany were the dadaists and surrealists," he explained. "It's like, you speak violence, you speak their language. But you laugh at them when they are goose-stepping down the street and it takes away their power. So I am suggesting that the Senate send in Amy Schumer and Chris Rock and Sacha Baron Cohen, thank you."
Bob Dylan's 75th birthday will be marked with a two concerts in Nashville next month. Dylan Fest is set to take place May 23rd and 24th at the Ryman Auditorium, with artists playing their favorite Dylan tunes. Musicians confirmed for Dylan Fest include Kesha, Kacey Musgraves, Emmylou Harris, Wynonna & the Big Noise, Brothers Osborne, Jason Isbell, Ann Wilson, City & Colour, Kurt Vile and more, with promise of surprise guests. Proceeds from the two concerts will benefit Thistle Farms, a charity helping female survivors of prostitution, trafficking, and addiction. Tickets for both shows go on sale Saturday.
Like a lot of the country, Jimmy Buffett and Gregg Allman are upset about North Carolina's bathroom laws, which discriminate against the LGBT community, but in case you missed it, unlike artists like Bruce Springsteen and Bryan Adams in Mississippi, they have decided not to cancel concerts over it.  "I happen to believe that the majority of our fans in North Carolina feel the way I do about the law," Jimmy, who is due to play Raleigh on April 21st and Charlotte on April 23rd, wrote on his blog. "These shows were booked and sold out long before the governor signed that stupid law. I am not going to let stupidity or bigotry trump fun for my loyal fans this year." As for future shows, Jimmy adds that it "would definitely depend on whether that stupid law is repealed."  Meanwhile, Allman expressed similar sentiments. "We stand in solidarity with the LGBT community urging [North Carolina] Gov. [Pat] McCrory to listen to the people and reverse this wrong," Allman wrote on Facebook. "I know that North Carolina is a state full of good folks and loyal fans, many of whom are angry about and feel misrepresented by this action." He then added, "My band and I will continue to play our show as scheduled there tomorrow, April 13, and hope that our music unites people in this challenging time."
Rocker Lou Reed died back in 2013 but his widow, Laurie Anderson, is making sure his legacy carries on. She is putting together a tribute that will include live music, screenings of films related to Reed, lyric readings by artists and actors, an all-day broadcast of his music, and more.  The line up for The Bells hasn't been announced yet, but Anderson and Hal Willner, Reed's longtime producer, are overseeing the event, set for July 30th at New York City's Lincoln Center.  We'll keep you posted as more details are announced.
This summer, Kinks fans will get to take a trip down memory lane. An extended version of the band's 1972 album, "Everybody's In Show-Biz," is set for release on June 3rd.  This new Legacy Edition will include studio session outtakes and live material recorded March 2nd and 3rd, 1972 at New York's Carnegie Hall.  As far as individual songs go, there will be previously unheard versions of "Sunny Afternoon," "Get Back in Line," "Complicated Life" and "Long Tall Shorty." Alternate takes of "Supersonic Rocket Ship," "Unreal Reality" and the first official release of "History" will also come as part of this version. But wait, there's more! The expanded "Everybody's In Show-Biz" will include in-depth liner notes written specifically for this release by rock scholar and "Rolling Stone" editor David Fricke.
One of the last shows Motorhead ever played will be released on CD and DVD. UDR Records recorded Motorhead's concerts in Munich, Germany, in November. Frontman Lemmy died in December. The live recording will be released as "Clean Your Clock" on May 27.
Brian Wilson is writing his life story again. Da Capo Press has announced Wilson will publish his autobiography, called "I Am Brian Wilson," on October 11th. He put out a memoir called "Wouldn't It Be Nice: My Own Story" in 1991. It was written while Wilson was under the care of Dr. Eugene Landy, who later had his license revoked. The book also raised questions of plagiarism. Wilson has disowned the book.
Robin Thicke and Pharrell (fah-REL') Williams have won a small victory in the fight over the song "Blurred Lines, after a judge ruled they will not have to pay the legal fees of Marvin Gaye's heirs. In March 2015, a jury found that "Blurred Lines" copied elements from Gaye's song "Got To Give It Up." The Gaye family was awarded 7.4-million dollars, which was reduced to 5.3-million and half the song's future royalties. The Gaye family may be entitled to some costs related to the case, but the judge denied their request for 3.5-million dollars in reimbursements.