Cheap Trick releases a new album today, Bang Zoom Crazy… Hello marks the band's 17th studio album. Produced by GRAMMY award-winning producer Julian Raymond, the album is the first to be released through Big Machine Records/Universal Music Canada, the country's leading music company.
Tracklisting:
1. Heart On The Line
2. No Direction
3. When I Wake Up
4. Do You Believe Me
5. Blood Red Lips
6. Sing My Blues Away
7. Roll Me
8. The In Crowd
9. Long Time No See You
10. The Sun Never Sets
11. All Strung Out
We lost Lemmy Kilmister back in December but fans will get another chance to see him live…sort of. Motorhead's upcoming "Clean Your Clock" was recorded on November 20th and 21st, 2015 in Munich, Germany, making it one of Lemmy's last performances. "Where there had once been almost too-fast breakneck pace, there was measured yet still thunderous rock 'n' roll served up only as they could."   Playing with him at the gig is guitarist Phil Campbell and drummer Mikkey Dee. "Clean Your Clock" hits stores on May 27th and aside from an audio recording of the show, a DVD of the concert will also be available.  You can get the release as a single CD, two-LP set, a DVD-CD combo, a Blu-ray-CD set and in a box format that includes a colored double-vinyl set, DVD, CD and a metal Motorhead medal. As if that weren't enough, there will also be a limited edition version of the box set.
When Paul McCartney puts together a compilation, he goes all in. "Pure McCartney" will include 67-tracks spanning his career from 1970 to now. "Me and my team came up with the idea of putting together a collection of my recordings with nothing else in mind other than having something fun to listen to," Macca explains. "Maybe it's to be enjoyed on a long car journey or an evening at home or at a party with friends? So we got our heads together and came up with these diverse playlists from various periods of my long and winding career."  The "Pure McCartney" will be available as an LP, CD, and digital download. Check out the full track list here.
If you ask Rolling Stone, John Bonham is the best drummer there is. The magazine released their ranking of the 100 Greatest Drummers of All Time and the Led Zepplin rocker topped the list.  The Who's Keith Moon came in second place and Ginger Baker from Cream rounded out the top three. Some other drummers to make the list include Rush's Neil Peart, Dave Grohl, Blinkn 182's Travis Barker, Red Hot Chili Peppers' Chad Smith, The White Stripes' Meg White and Phil Collins.
In order to compile the list, "Rolling Stone" editors "valued nuance and musicality over chops and flash, celebrating players who knew the value of aiding a great song more than hogging up a show with a silly solo." Check out the top 10 drummers below and the full list here.
John Bonham, Led Zepplin
Keith Moon, The Who
Ginger Baker, Cream
Neil Peart, Rush
Hal Blaine
Clyde Stubblefield and John "Jabo" Starks
Gene Krupa
Mitch Mitchell, Jimi Hendrix Experience
Al Jackson Jr., Booker T. & the MG's
Stewart Copeland, The Police
In a story from Entertainment Weekly...A star-studded lineup is headed to the White House to help celebrate the fifth annual International Jazz Day in April 29th.  Sting, Aretha Franklin, Buddy Guy, Herbie Hancock, Chick Corea, Pat Matheny, Diana Krall, Wayne Shorter, and many others, will take part in the International Jazz Day All-Star Global Concert, which will air on ABC April 30th.   Washington, DC is actually the host city for this year's International Jazz Day. Istanbul, Osaka, and Paris have hosted the event in previous years.
Andy "Thunderclap" Newman, pianist for the sixties British band Thunderclap Newman, died yesterday at the age of 73.  The band is best known for their iconic hit "Something in the Air," which reached number one on the UK singles chart and got as high as number 37 on the "Billboard" Hot 100. Tom Petty and the Heartbreakers covered it in 1994 for their "Greatest Hits" album, which made it all the way to number 19 on the Mainstream Rock Songs chart.  News of Thunderclap's death was announced on The Who's Facebook page. Pete Townshend was responsible for forming Thunderclap Newman and actually played bass on Thunderclap Newman's albums, using the alias "Bijou Drains."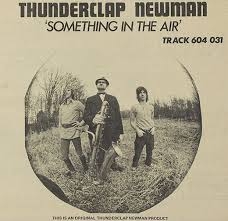 In a story from The Miami Herald…One of Eric Clapton's iconic tunes is his Derek and the Dominos hit "Layla," but it turns out he may not have actually written it himself. In case you missed it, in her upcoming memoir "Delta Lady," out April 5th, Rita Coolidge insists she played a big role in writing the tune, but didn't receive credit, which means she didn't get a share of the publishing, which was split between Eric Clapton and co-writer Jim Gordon.   In the book, she claims she wrote a song with Gordon called "Time (Don't Let the World Get in Our Way)," which she played for Clapton, hoping he'd cover it. While he didn't, she later found out that he lifted part of the song for his hit.  "I was infuriated," she said about the first time she heard "Layla." "What they had clearly done was take the song Jim and I had written, jettisoned the lyrics and tacked it to the end of Eric's song. It was almost the same as the arrangement."   Coolidge said she confronted Clapton's manager Robert Stigwood but never got any credit for the tune, something that's always bothered her. "There was no way Jim could have forgotten we'd written the song together," she writes. "And, frankly, I don't think Eric could have either."