Bob Geldof is opening up about his difficulty in dealing with the 2014 death of his daughter, Peaches. Among other things, he admits his struggle was so deep that he even contemplated taking his own life. As you might recall, Peaches died at age 25 of a heroin overdose, the very same thing that killed her mother, Paula Yates.  The Boomtown Rats singer revealed in an interview that when he was at his worst he'd call a close friend who talked him out of it, warning him, "don't do anything f***ing stupid."  "I'd make lists and keep working at the writing of those lists until the upside overwhelmed the downside," he said. "In my case I wrote: 'What's the upside of being alive?' and 'What's the downside of it?' Was it ever really serious? Overall, no. In that moment though, perhaps it was."   Geldof said he'd call a friend when he realized he was starting to get "irrational." "He almost slapped my face (with his tone) and said 'Don't do anything f***ing stupid, stay exactly where you are' and came around very quickly," Bob recalls. "People talk you through these things."
We told you about the rumors that Axl Rose was going to fill in for AC/DC's Brian Johnson.  No one confirmed the news, but TMZ has photos of the Guns N' Roses front man leaving an Atlanta rehearsal space with Angus Young and the rest of AC/DC.  We'll keep you posted if and when Axl or AC/DC confirm the pairing.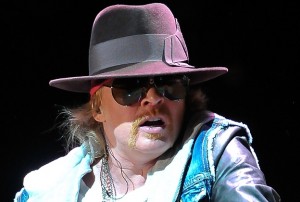 Pearl Jam's Mike McCready celebrated his 50th birthday over the weekend with a star-studded bash at the Neptune Theater in Seattle.  The party included a special birthday set by Cheap Trick, one of the guitarist's favorite bands. But that's not all, the night was topped off with an appearance by Pearl Jam front man Eddie Vedder, who joined Cheap Trick on their classic "I Want You to Want Me."
Melissa Etheridge's kids could have had Brad Pitt as a father. In case you missed it, in a recent interview, Melissa discussed the rumors that surrounded the children she had with former partner Julie Cypher, and reveals that they almost asked Brad to be their sperm donor, but in the end thought better of it.   "Well actually, because [Brad Pitt] was such a good friend of mine and we did consider it and yet, I looked and I saw how badly we wanted children and I thought, 'I don't want to share this with someone who really, badly wants children because my children don't need another parent—they have two," she told Australia's Studio 10. "Of course now my teenagers are like, 'I could have had Brad Pitt as my dad!' My son said, 'I could've been amazingly handsome!'"   Of course, Melissa and Julie, who have since broken up, had David Crosby father their two children, and everything turned out well (except the breakup of course). "It's one of the reasons why David Crosby and his wife are so perfect—because they already had children," Melissa explained. "They were looking to do this as a gift. And my children are lovely and gorgeous anyway."
The David Bowie tributes at Carnegie Hall and Radio City Music Hall have gotten a little bigger. The two shows, which will already feature performances by The Flaming Lips, Mumford & Sons, Pixies, Michael Stipe (He's also going to be on the Tonight Show tonight), The Roots, Blondie and more, have added even more acts to the lineup.  Patti Smith will play Carnegie Hall on March 31st Thursday while J Mascis and Esperanza Spalding will play both Carnegie Hall and Radio City Music Hall the following night.  Friday's Radio City show will be streamed live and donations will go toward the non-profit organizations benefiting from the two concerts. For the full lineup of the Carnegie Hall show, head here. The full lineup of the Radio City show is here.
Ringo Starr's boyhood home has sold for just under 100-thousand dollars to a Beatles fan. Jackie Holmes bought the house last week. She previously has bought properties associated with John Lennon and with George Harrison. Starr lived in the Liverpool house from the time he was a small child through his teen years. It's where he learned to play drums. One of the restrictions of the sale is that Holmes may not turn the house into a museum or a tourist attraction.