Dave Matthews Band is heading home. The band has announced they're kicking off their massive 25th anniversary summer tour with a hometown benefit show. The gig in Charlottesville, Virginia is scheduled for May 7th and proceeds from that night will go to local charities as a way for the band to "express its gratitude for the incredible support the community has provided from the beginning." Money raised will be donated through DMB's Bama Works Fund. Tickets for the hometown opener go on sale to their fan club The Warehouse today, to Citi Card Members on March 29th, and to the general public on April 1st.
A 17th Century townhouse that served as a home base for the Sex Pistols between 1975 and 1977 has been awarded a special historical designation by the British heritage group Historic England. The home, which was leased by the group's late manager Malcolm McLaren, had a downstairs that was used as a recording studio, with guitarist Steve Jones and bassist Glen Matlock living upstairs. It still features graffiti courtesy of frontman John Lydon, a.k.a. Johnny Rotten. The townhouses at 6 and 7 Denmark Street have been given a Grade II* rating, which is the second highest listing category. That means the buildings are designated as "more than special interest."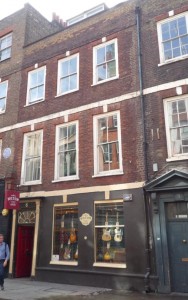 We told you about Iggy Pop's recent nude modeling stint for a life drawing class at the New York Academy of Art. Now, the iconic rocker is explaining why he stripped down in the name of art. "It was not about anything silly," Pop explains. "It wasn't about my winkie, or anything. It was just a documentation of what's left of me. I thought it was a good idea the artist had and I enjoyed so much the company of the 21 drawing students and working artists." He goes on to say that there was a "good vibe" in the room and that he got through the 20 minute session by thinking about through his back catalogue. "The way I got through it, without going crazy, was listening to my own songs from my albums — including this one — in my head," the singer explains. "I know how long they are…and when I came out for the third sitting it got to to 19 minutes and about 53 seconds, and I said to the guy, 'Is it time?' And 'Ding! went the bell — and they laughed." The artists' works will be on display in the fall 2016 exhibit, "Iggy Pop Life Class," at the Brooklyn Museum.
Record Store Day isn't until April 16th, but Metallica fans can get a taste of what the band's got in store for them now. Metallica previously announced they're releasing deluxe edition of their first two albums, "Kill 'Em All" and "Ride The Lightning," as part of box set. Now, they're streaming a new remastered version. James Hetfield, Lars Ulrich, and the rest of the boys are also releasing "Liberté, Egalité, Fraternité, Metallica! – Live At Le Bataclan. Paris, France – June 11th, 2003" on Record Store Day, so fans better mark their calendars!
Either Guns N' Roses are playing a small warm up gig in Los Angeles on April 1st or the Whiskey-A-Go-Go bar in West Hollywood is playing a mean April Fool's joke on fans. Former GNR drummer Steven Adler was set to play a show at the venue but then their official Twitter account announced the show was cancelled. The tweet reads "The Steven Adler show on 4/1 has been canceled. Stay tuned for a big announcement ! #GunsNRoses." While some fans think this means GNR will be doing a warm up show with Adler on the drums, others are warning it may be a practical joke. We'll keep you posted.