The family battle continues for a grief stricken Randy Meisner.  TMZ has the story.
Former Eagles bassist Randy Meisner is taking steps to make sure his two estranged children don't get control of his life. As we already told you, Randy's wife, Lana, died earlier this month in a tragic gun accident, and now his two kids want to get a conservator-ship over him, but he's one step ahead of them.  TMZ reports Randy has already filed court documents in which he chose two people, a "trusted friend" and his financial advisor, to watch over him during his "profound state of grief."  It's not the first time the kids have wanted to get control of the musician. Last year they attempted to get a conservator-ship – and they failed then, too.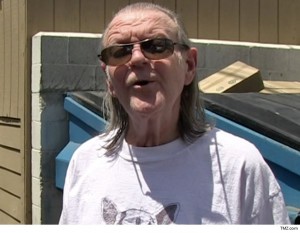 Comedian Jim Breuer almost caused a panic among AC/DC fans. Recently we told you that the band announced frontman Brian Johnson was facing "total hearing loss" and would need to stop touring. In a recent episode of his podcast, Breuer claimed that Johnson downplayed his hearing loss and said his band "kicked him to the curb."  After that new was reported by multiple sources, Breuer took to Facebook to clarify his statements. "You have to remember I'm a comedian and a storyteller. I definitely exaggerate and sometimes I get a little carried away! And this was one of those times," the comedian explains. "All Brian said was 'I feel down & want to finish the job and hope it happens!' The rest was me going off."  So far, Johnson himself hasn't commented.
Check Brian Johnson jamming with Breuer.
He also does a great impression of AC/DC
Melissa Etheridge is getting ready to release her first album since 2014's "This is M.E." The yet-to-be-titled album, which is expected out in late summer/early fall, will honor Stax Records, and will feature Melissa singing tunes from the pioneering label's catalog, which includes songs by Otis Redding and more.  "There were no racial boundaries inside Stax," Etheridge, who is currently recording at Royal Studios in Memphis, shares. "And I have a very color blind audience. I've spent months just honing in on which songs to record, the album's ultimate feel and how we can marry today with yesterday and create something new. … I'm in heaven down here."
ONE MORE THING! It appears that Melissa is having so much fun in Memphis that she decided to jump on stage and perform. Video on her Twitter page shows Melissa singing Otis Redding's "Try a Little Tenderness" in a club. Check out the video.
Sooo … I did this tonight!!! #Memphis @IamBooMitchell @RoyalStudios #rockandsoul Memphis rocks pic.twitter.com/oPVGhGC1yp

— Melissa Etheridge (@metheridge) March 14, 2016
An autopsy confirms that keyboardist Keith Emerson committed suicide.   The body of the co-founder of the progressive rock group Emerson, Lake and Palmer was found early Friday by his longtime partner. An autopsy showed the 71-year-old shot himself and that there were also signs he had a heart condition.