The Allman Brothers Band are reissuing  "Live From A&R Studios: New York, August 26, 1971."
The live radio show was recorded and broadcast live on WPLJ radio just eight weeks before Duane Allman's untimely death, making it his final New York City performance. "Oh, man, I'll never forget that one," drummer Butch Trucks told Rolling Stone. "We were set up in that studio just like we did on stage. But it was better. Rather than having their backs to me, the front line – Duane, Dickey and Berry – was facing us in kind of a semi-circle, which made it even easier to communicate."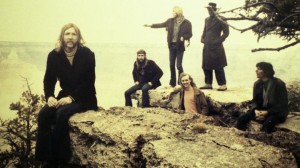 Allman Brothers Band is reissuing five other previously released, vintage gigs through a new distribution deal, including two other, live gigs at American University in Washington, D.C., in 1970 and at Stony Brook, New York, in 1971.  "Live From A&R Studios: New York, August 26, 1971" hits stores on April 1st.
If you missed it yesterday here's how Paul McCartney remembers legendary producer George Martin.  Click here.
 Night Ranger will record a live C-D and D-V-D at their upcoming show in Chicago. The band's May 7th performance at the House of Blues will be recorded for release later this year. However, fans can tune in to Yahoo Music on May 7th and watch the concert as a live stream.
The Tate Modern gallery in London calls Elton John's photography collections one of the world's greatest in private hands. Some of those photos will go on display at the gallery beginning November 10th. John has about seven-thousand photographs, and about 150 will be in the exhibit. The show will include portraits of cultural figures like Georgia O'Keeffe, Pablo Picasso, Henri Matisse and Jean Cocteau. John says each photograph serves as an inspiration for him.