Sir Paul McCartney is playing Vancouver April 19 & 20.
His One on One Tour hits Rogers Arena.  Tickets go on sale Monday Morning at 10.
American Express® Card Members can purchase tickets before the general public beginning Thursday, March 10 at 10am local time through Sunday, March 13 at 10pm.
For more details hit Paul's Website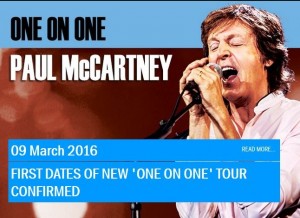 Beatles producer George Martin has died.  Ringo Starr tweeted, "God bless George Martin" and John Lennon's son Sean tweeted, "R.I.P. George Martin. I'm so gutted I don't have many words."  Paul McCartney says Martin was "like a second father to me."  Here's more on Sir Paul's website.
It's been a rumour for months but Rush has confirmed they will not be touring anymore.  Alex Lifeson said "We had such a great time on [last year's "R40″] tour," And "I think that no matter how long it would have been, it would have been too short."  He says drummer Neil Peart's health is a major factor in the band's decision to stay of the road. "His shoulders were hurting, his arms were hurting, his elbows, his feet, everything,"  Lifeson says that he hasn't talked with his band mates about the future yet, but they could still play one-off shows or short runs and could still record music. Check out the full story at Rolling Stone.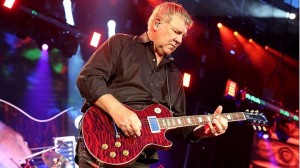 AC/DC has been forced to postpone the rest of their tour and will likely make up the dates with a guest vocalist. Doctors for singer Brian Johnson have told him to stop touring immediately or risk total hearing loss. The first show affected was last night's concert in Atlanta. The tour was due to wrap up April 4 in New York. Ticketholders can either hold onto tickets for the rescheduled dates or get refunds.
Former Eagles co-founder Randy Meisner is extremely stressed after the death of his wife and has been  hospitalized.   Lana Meisner died Sunday in a freak accident after accidentally shooting herself with a rifle in the couple's home.  Well, TMZ reports that Randy was so "distraught and unstable" following Lana's death that he threatened suicide, and that, with his history of substance abuse, forced cops to place him on a 72-hour psych hold.
David Bowie reissues of "TVC 15" and "The Man Who Sold the World" on picture disc, plus the 50th anniversary release of his Pye singles, "I Dig Everything – The Pye Years 1966"
Fleetwood Mac's "(Alternative) Tusk," featuring the alternative version of the album on double-LP
The Bob Dylan EP "Melancholy Mood" – previously exclusive to his recent Japanese tour – which comes with tracks from his forthcoming "Fallen Angels" album.  For the full list click here.
And check out the Canadian Record Day site.