Rolling Stones  former bassist Bill Wyman has been diagnosed with prostate cancer, but is expected to make a full recovery.  The 79-year-old Wyman is undergoing treatment for the disease, which was "caught in the early stages."    Wyman joined the Stones in 1962 and played with the group until 1993, making occasional guest appearances since then.  He now tours and records with his own blues-rock band, Bill Wyman's Rhythm Kings.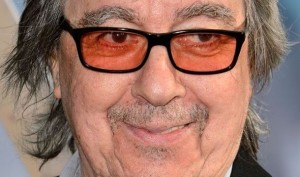 AC/DC is dealing with yet another serious medical situation. The band is postponing the last 10 "Rock or Bust" tour dates after a doctor warned front man Brian Johnson that if he continued to tour, he'd be "risking total hearing loss."  The band is planning on rescheduling the dates for later this year, most likely with a guest vocalist. Current tickets will be honored at the new dates, will be announced at some point later, or refunds will be available at point of purchase. Details on AC/DC's website here.
You'll have a chance to see Bob Dylan in the flesh this summer. The icon is going on a 27-date tour kicking off on June 4th in Woodinville, Washington and wrapping up in July 17th in Gilford, New Hampshire.
This outing is in support of Dylan's upcoming album "Shadows in the Night" and will feature the legendary Mavis Staples as the opening act. Those who buy a pair of seats to any shows aside from Boston and Indianapolis, will get a code that'll get them a CD copy of "Shadows in the Night," which hits stores on May 20th
Check out the dates and ticket details, here.
As we told you before, Bob Dylan's archives are headed to a permanent residence in Tulsa, Oklahoma and apparently one piece of memorabilia is a letter Barbra Streisand wrote Dylan about a possible collaboration. Well, in case you missed it, Babs talked to the "New York Times" about that note, and said she was "touched" to find out he still had it.  "As I remember it, first he sent me flowers and a lovely note, asking me if I would like to sing with him," she said. "In return, I sent him the note that's in his archive, thanking him for the flowers and the invitation. But for whatever reason, it never happened at the time."  Babs says that years later Dylan wrote her another letter, which she still has. She says it contained a message that still means a lot to her. Dylan told her, "You are my favorite star. Your self-determination, wit and temperament and sense of justice have always appealed to me." She adds that she plans to send a copy of the letter back to Bob so he can include it in his archives.
Chad Smith and Will Ferrell are teaming up again for a good cause. The duo is putting together the "Red Hot Benefit Comedy + Music Show & Quinceanera."  Smith is on board as creative director and will play with Red Hot Chili Peppers as the event's first confirmed act. Ferrell and his Funny or Die team are set to host the benefit, which will be held on April 20th at the Shrine Auditorium in Los Angeles.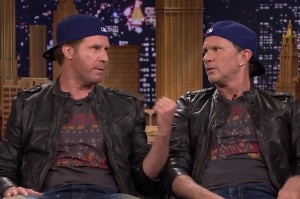 Money raised will go to Cancer for College, which helps cancer survivors realize their dream of a college education and Silverlake Conservatory of Music, which grants scholarships and provide free private music lessons. Tickets go on sale this Friday and will set you back between $75 and $250.
The wife of Eagles co-founder Randy Meisner died Sunday after accidentally shooting herself in the couple's home following a domestic disturbance.  Sixty-three-year-old Lana Rea Meisner died after a rifle in her closet accidentally fired and hit her. A source told the "New York Daily News" she had tried lifting the gun from a case, but something hit the trigger and it went off.  According to TMZ, earlier in the evening Lana Rae called 911, claiming Randy was waiving a BB gun and "acting erratically." About 90 minutes later, Randy called police to tell them he had discovered his wife shot in the head.  Despite the call, a police source says Lana Rae's death "appears to be a complete accident," insisting, there was, "no foul play whatsoever." Randy was reportedly in another room when the shooting occurred and has been cleared in his wife's death.
Korn and Rob Zombie already teased an upcoming summer tour, but now we know the full itinerary and that In This Moment is serving as opening act.  Their 26-date run kicks off in Inglewood, Colorado on July 19th and wraps up on September 3rd in Bristow, Virginia. Tickets go on sale Friday. As a bonus, select dates are part of the "Ticket to Rock" offer, which gives fans access to three shows, including Slipknot/Marilyn Manson and Disturbed/Breaking Benjamin, with a single pass.
Record Store Day will have a touch of the Thin White Duke in the form of two David Bowie re-issues. The first is "TVC 15," a single from 1976's "Station to Station." That will be backed by a 2010 single edit of "Wild is the Wind."  The second is 1970's iconic, "The Man Who Sold the World." Both albums will be released as picture discs, which means Bowie's mug is right on the vinyl itself. You can pick up both these releases on Record Store Day on April 16th.