What looks like a very cool travelling exhibit hits our city November 7th.  It's the 'Discover The Dinosaurs' tour.  Here's their press release and a link to their site Discover Dinosaurs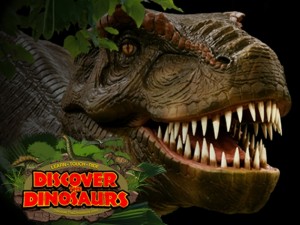 Learn, discover and have fun in this unique hands on exhibit! Featuring more than 40 dinosaurs, Discover the Dinosaurs is a walk-through exhibit designed to bring you back in time to a landscape where dinosaurs lived. Dinosaurs of prehistoric times seemingly come to life as a 20-foot T-Rex, life-sized Triceratops, Iguanodon, Apatosaurus and Stegosaurus. Some of the dinosaurs even come to life with sound and movement controlled by YOU! Beyond the exhibit, additional activities are available for kids of all ages including riding a dinosaur, a dino dig and gem and fossil panning.
Bring the entire family, and spend the day with dinosaurs!
CN Centre
Saturday, November 7                                      10 AM – 7 PM
Sunday, November 8                                       10 AM – 7 PM
Ticket Prices: Adult $18, Child Exhibit Only $16, Senior $16, Child Exhibit Plus $22*
(Additional fees may apply.)
*Child Exhibit Plus includes Dinosaur Exhibit ( Dino Dig, Dino Den, Dino Theater, Dino Coloring Station, Scavenger Hunt) PLUS: Unlimited Dinosaurs Rides, Mini Golf and Inflatables.  Gem & Fossil Mining and Face Painting require separate tickets and are sold on-site only.