Fans can pay their respects to B.B. King in Las Vegas before he is laid to rest in Mississippi. King's website says a public viewing will take place in Las Vegas on Friday. The mortuary's manager says King will be in an open casket and there will be no memorial service. A private funeral is set for Saturday in downtown Las Vegas. King's business manager, LaVerne Toney, says she's still arranging the burial next week in King's hometown of Indianola, Mississippi.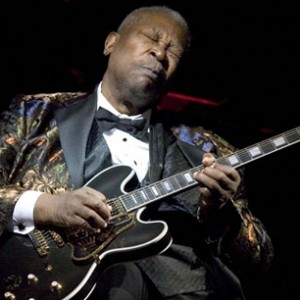 Def Leppard guitarist Phil Collen will become the first member of the group to write an autobiography. Collen will publish "Adrenalized: Life, Def Leppard, and Beyond" on October 27. Collen says it's fascinating to look at his life from the time he was 16 and working at a factory to his life now, travelling the world and selling millions of records.
Iron Maiden singer Bruce Dickinson has been given the all-clear on his cancer after his most recent MRI scan. Dickinson had been battling cancer on his tongue. The band will not play any shows until at least next year to let Dickinson get back to full strength  and   will   work on a new studio album in the meantime.
The 100th anniversary of the birth of Les Paul is getting nationwide recognition. June 9 will be "Les Paul Day" in the cities of New York, Nashville and Waukesha, Wisconsin, where Paul was born. The state of Wisconsin will declare "Les Paul Day" as well. The free mobile touring exhibit known as Les Paul's Big Sound Experience will make its first stop in New York that day. Steve Miller, Joe Satriani, Neal Schon of Journey, Warren Haynes of Gov't Mule, Steve Vai (VY) and the Les Paul Trio are among those who will perform at a Paul tribute concert in New York that night. A greatest-hits CD and reissues of four of Paul's albums will hit stores on June 9 as well. Paul die in August of 2009.
And here's the video of The Edge falling off the stage in Vancouver that Coog & Wendy has on the show Friday.