This is cool not the first time a famous artist has just popped up as a street performer but very cool for one of the worlds number one bands to do it!
The band performing "Angel of Harlem" at Grand Central Terminal in New York on Monday was none other than U2 themselves. U2 and Jimmy Fallon have been taping bits all over New York this week in anticipation of U2's appearance on the "Tonight Show With Jimmy Fallon" on Friday. Fallon and Bono were seen riding bikes in a comedy bit spoofing Bono's accident in November that forced U2 to drop out of their week long appearance on the "Tonight" show.
Thunder Bay, Ontario, native Paul Shaffer (SHAY'-fuhr) says it's sad to think on May 20th, his 33 years as David Letterman's bandleader will be over when Letterman tapes his final "Late Night" show. But while Letterman may be going off the air, Shaffer says he doesn't plan on disappearing. He says he hopes to do a bit of acting, some comedy and play a bit of jazz, now that he'll have more free time. Shaffer's first big break came as the music director for the legendary Toronto production of "Godspell" in the early 70s. The at-the-time unknown cast included Martin Short, Eugene Levy, Andrea Martin, Victor Garber and Gilda Radner.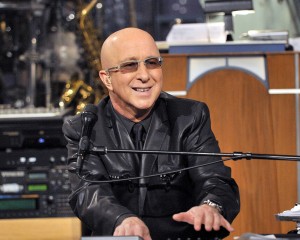 John Mellencamp believes he doesn't write songs so much as he channels them. However, he sometimes gets in his own way. Mellencamp says "Pink Houses" was an "inspiration song" but he messed with the last verse too much. He groans every time he hears the last verse. Mellencamp says he's pretty good at melodies and arrangements but he feels he falls short on lyrics.